Sprint today launched 5G services in parts of four cities. These initial Sprint 5G markets include Atlanta, Dallas-Fort Worth, Houston and Kansas City. The carrier says that it will do the same in areas of Chicago, Los Angeles, New York City, Phoenix and Washington, DC in the coming weeks.
The total coverage by the areas in the announcements will be 2,180 square miles and 11.5 million people, Sprint said.
The carrier offered details on today's launches:
Atlanta: Sprint 5G covers approximately 150 square miles and 565,000 people from downtown to Dunwoody.
Dallas-Fort Worth: Approximately 575 square miles and 1.6 million people across Irving and downtown Fort Worth. The coverage includes Sundance Square, Las Colinas and the North Dallas area from Preston Hollow to Addison.
Houston: Approximately 165 square miles and 800,000 people from downtown to Memorial City Mall/City Centre Plaza areas of Houston.
Kansas City: Covering approximately 225 square miles and 625,000 people from downtown Kansas City, MO, to Overland Park, KS, which is where the company is headquartered.
Sprint 5G is using 64T64R (64 transmitters, 64 receivers) 5G Massive MIMO radios from Ericsson in Atlanta, Dallas-Fort Worth, Houston and Kansas City. These radios support split-mode operation, which means that they can simultaneously deliver LTE Advanced and 5G New Radio (NR) service.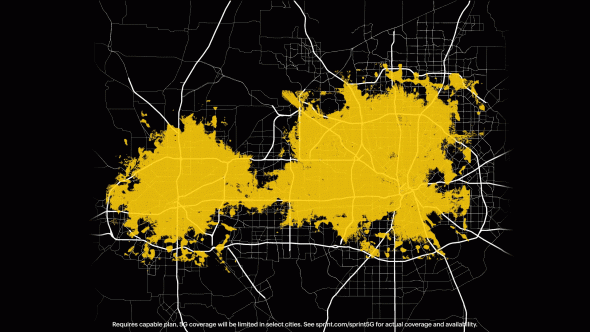 The radios run on Sprint's 2.5 GHz mid-band spectrum and are deployed on existing 4G cell sites. This creates a nearly identical footprint for both 2.5 GHz LTE and 5G NR coverage, the company said. Current end user equipment includes the LG V50 ThinQ 5G smartphone and the HTC 5G Hub mobile hotspot. This summer, the company will add the Samsung Galaxy S10 5G.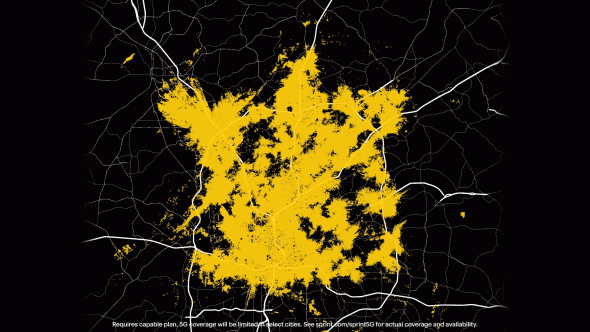 The industry is spending a significant amount of time and energy trying to ensure that the speedy 5G networks will have compelling capabilities and that subscribers understand what is being offered. In March, the carrier opened the Sprint 5G Experience. The goal is to showcase and explain how 5G works and the potential it has to change the way that people work and play. The location has more than a dozen stations and demonstrations that feature augmented reality, virtual reality and simulated displays.
Sprint joins AT&T and Verizon with a 5G launch thus far, in the so called 5G race.