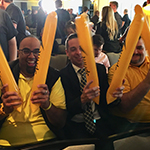 Perhaps he's anticipating that the merger with T-Mobile will indeed be completed and wants to get into the swing of things. Or perhaps he's always had a snarky side and we just never noticed it before. In any case, Sprint CTO Dr. John Saw sounded a lot like T-Mobile CEO John Legere as he addressed employees brandishing Sprint yellow inflatables, along with media, at a Sprint 5G launch event in Chicago today.
Without mentioning names, he took a swipe at AT&T and Verizon who have deployed 5G in millimeter wave bands, noting that Sprint, unlike some of its competitors, has published 5G coverage maps. 
"It's hard to publish [maps] with millimeter wave because I don't think Google Earth can zoom down that far," quipped Saw in a reference to the limited range that millimeter wave spectrum supports.
Sprint has deployed 5G in the lower-frequency 2.5 GHz band, enabling the company to cover an area that is home to about 700,000 people, he said.
"You aren't going to lose a 5G signal if you turn around a corner," he noted.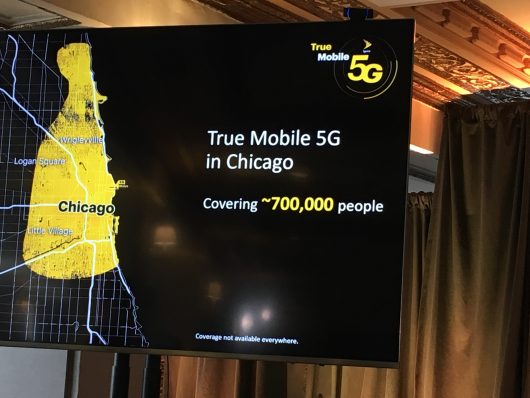 Sprint 5G Chicago Launch
The plus side of deploying 5G in the millimeter wave band is that the band can support higher-speed service. But as an alternative for boosting speeds, Saw touted Sprint split-mode technology that uses 5G and LTE simultaneously on the same device – a capability he said only Sprint has deployed in the U.S.
In Chicago, Sprint has deployed LTE and 5G in the 2.5 GHz band, devoting 60 MHz of spectrum to each technology. The company is seeing average 5G download speeds of 328 Mbps, although peak speeds can exceed 800 Mbps, he said.
Coverage range in the 2.5 GHz band can be as great as two kilometers over flat terrain, although in Chicago it "could be less than one kilometer," Saw said. 
Saw's comments about 2.5 GHz spectrum came just one day after the FCC voted to make more spectrum in that band available for mobile use through an upcoming auction. Spectrum in the band was initially dedicated for educational purposes but is vacant in many areas, and those areas will be included in the auction.
Sprint is the license holder for about 40% of its 2.5 GHz spectrum and has long-term leases for the remaining 60% from license holders such as educational institutions, according to Saw. Altogether, the company has spectrum covering the entire country, he said. 
"It took a long time to put all the pieces of the puzzle together [to get] coverage of the entire country," he commented. The company holds an average of 160 MHz of 2.5 GHz spectrum in the top 100 markets, Saw noted.
Sprint 5G customers have three devices from which to choose – including the LG V50ThinQ 5G smartphone, the HTC 5G Hub and the Samsung Galaxy S10 5G. 
Next week Sprint will begin offering the devices nationwide so that people who live outside 5G markets but travel to them will be able to use 5G service, noted Ryan Sullivan, Sprint vice president of product engineering and development, at today's event. Sprint previously launched four other 5G markets – including Atlanta, Dallas-Fort Worth, Houston and Kansas City.

Another technology that Sprint is leveraging for 5G is massive MIMO that encompasses 64 transmitters and 64 receivers, the company noted in a press release about the launch.