A cloud DVR beta trial is now underway for the OTT video service from Sling TV. Invitations to select participants are being issued today, according to a company blog post.
The cloud DVR beta features Roku devices only for now, including Roku players and Roku TVs. Additional devices may be added later. The initial cloud DVR service will offer 100 hours of recording space at no extra charge (at least initially), and may provide future storage upgrade options.
Additional features of the cloud DVR beta program highlighted in the company's blog post include:
You'll be able to record movies, episodes, full series and more. DVR functionality is not currently available for all channels.
You will also be able to pause, rewind or fast-forward your recorded content.
You may record programs simultaneously, with no recording conflicts.
Your DVR content will be integrated directly into your "My TV" screen, so you can access your recordings easily and quickly.
Sling TV automatically manages DVR space to make room for new recordings by deleting the oldest 'watched' recording when capacity is full.
You will also have the ability to manage your own DVR space and delete individual, multiple or all recordings.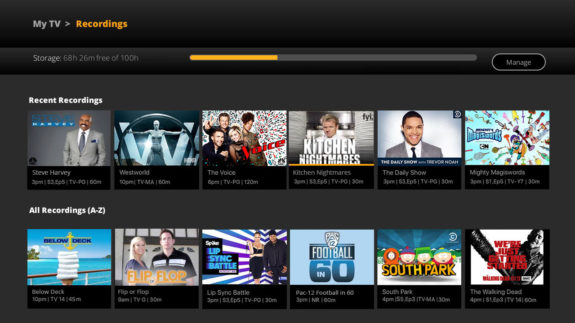 The cloud DVR functionality will not be available for every channel on the Sling TV line-up. According to a report in Variety, Sling TV's cloud DVR will not allow recording of Disney, ABC or ESPN channels for example.
This cloud DVR beta trial illustrates DISH's ongoing strategy for Sling TV to create a lower cost viable option for cord cutters who still want a familiar channel line-up, but across multiple devices. They have growing competition, including DIRECTV NOW and others, which should make for an interesting 2017.