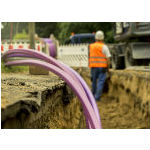 Expanding their footprints using an edge-out strategy could be a growth opportunity for cable companies, according to MoffettNathanson Research – and funding through the upcoming Rural Digital Opportunity Fund (RDOF) auction and other government programs could play a key role in fueling rural cable broadband footprint growth, the researchers said.
To date, cable footprint growth has been minimal, according to the researchers, who note that Comcast's footprint has grown at an average rate of 1.1% annually since 2016 and that Charter's has grown an average of .7% per year over the same period. That's likely to change, however – at least for Charter, as the company plans to bid in the RDOF auction, as does Altice USA, the researchers note.
The RDOF is a reverse auction that will award funding to cover some costs of deploying broadband to unserved rural areas, with funding going to the entity that commits to deploying service to an area for the lowest level of support. A weighting system will be used to favor bids for higher-speed or lower-latency service.
As MoffettNathanson notes, deployment costs are higher in rural areas, but competition is less, which means that government-supported buildouts could be a means of "de-risking" broadband and creating a longer "runway" for sustained broadband subscriber growth for the cable companies.
Cable Broadband Economics
The researchers estimated cable company costs to deploy broadband to rural areas, noting that the cost to pass an individual rural home could be as high as $4,000. They add, however, that "An urban build at $2,000 per home passed with an assumption of 50% penetration implies a passing cost per connected home of $4,000. A rural build at twice the cost, or $4,000 per home passed, but with an assumption of 80% penetration, implies a passing cost per connected home only 25% higher."
MoffettNathanson previously studied Charter's fiber deployment costs and revenues. Using that information and making certain assumptions the researchers estimate that Charter might need a subsidy of $147 per subscriber per year over 10 years to break even on a deployment costing $4,000 per home passed.
Among the researchers' assumptions:
Average revenue per user- $75 with a 3% average annual growth rate
Churn rate- 1.25% (the researchers add, though, that 1% might be more realistic)
Penetration rate- 75% after two years
The required level of support that the researchers estimate for Charter would seem to be in line with what some companies won in the 2018 Connect America Fund CAF II rural broadband funding auction on which the RDOF auction has been largely modeled. And that suggests that a company like Charter has a shot at winning funding in the RDOF auction – perhaps a lot of funding. The company has indicated ambitious auction plans, noting that it might bid on multiple millions of locations.
The MoffettNathanson researchers see a strong likelihood of additional government funding being made available for rural broadband buildouts moving forward. They also note that they expect cable companies, driven by the allure of cable footprint growth, to be "significant players in all rural broadband buildouts going forward."