Unified communications as a service (UCaaS) provider RingCentral seems to have become a Wall Street darling, sharing the spotlight with the likes of AT&T and Verizon at three investor conferences in the last 10 days. The company's popularity underscores a major market shift toward UCaaS and away from premises-based offerings — and according to company CEO Vlad Shmunis, also illustrates unique RingCentral differentiation points.
RingCentral Differentiation Points
"Our vision is not just replacing traditional communications with [the] cloud, but expanding [to include] collaboration," said Shmunis today. He noted, for example, that RingCentral has been taking business not just from PBX manufacturers but also from companies such as GoToMeeting and videoconferencing provider Blue Jeans.
Chief information officers like the fact that RingCentral can replace multiple vendors, minimizing the number of vendors with which the CIO must interact, Schmunis noted.
End users can use RingCentral with smartphones, tablets or desktop phones. A key differentiator is that the company has an open application programming interface, which makes it easy to integrate with other offerings, according to Schmunis.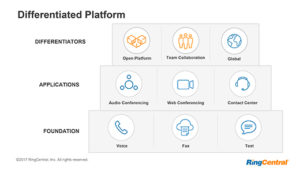 Another RingCentral executive said yesterday that the number of apps available in the company's app store increased from 20 to 80 in one year – an accomplishment he attributed to the company's independent software vendor (ISV) ecosystem.
Another important differentiation point is RingCentral's global reach, Schmunis said. By the end of the year, he said the company's offering will work in 95% of the countries in which U.S.-based businesses operate.
RingCentral is currently growing at an annual rate of 30% and in the enterprise market, its growth rate is 85% annually. Perhaps unsurprisingly, the company has seen strong interest from Avaya resellers, who are looking for new lines to represent now that Avaya's sales are in decline.
Schmunis said it would be possible for another company to create an offering similar to RingCentral's but that he expects to stay one step ahead of anyone who might attempt that. The company's current research and development budget is double that of its closest competitor.
Enhancements that RingCentral is working on currently include artificial intelligence, team messaging, file sharing and task management.
One of RingCentral's executives spoke yesterday at the Baird Global Consumer, Technology & Services Conference. Shmunis spoke today at the Bank of America Merrill Lynch Global Technology Conference.