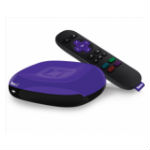 Why subscribe to a traditional pay-TV service when you can watch all the movies and shows you care to on demand by signing up for cheaper OTT subscription streaming services? That's increasingly the point of view being taken by young adults (20-25), the single largest group of pay-TV "cord nevers" highlighting a Millennial video preference, according to new TDG (The Diffusion Group) market research.
OTT subscription video-on-demand services (SVOD) meet the viewing needs of the majority of Millennials who have never signed up for a traditional pay-TV service. They feel little need to sign up for one as a result, TDG points out in a Sept. 20 research note.
Three-fourths of ¨Cord Nevers¨ said SVOD services play a key role in their decision not to subscribe to a traditional pay-TV service, revealing a millennial video preference, according to TDG. Two-thirds rated this factor ¨very relevant.¨ Half ranked it as ¨extremely relevant.¨
"The choice to live without legacy pay-TV is undoubtedly multi-dimensional," noted TDG Director of Research Michael Greeson. "High costs, poor value, and the availability of substitutes all play a role in this decision. Yet while cost of service has long been the dominant factor driving MCNs, the availability and sufficiency of SVOD now ranks as equally important."
TDG surveyed nearly 1,000 U.S. Millennial ¨Cord Nevers¨ in producing its latest market research report on the subject. Eight in 10 (81%) of Millennial ¨Cord Nevers¨ TDG surveyed use SVOD services. More than 9 in 10 said they're sufficient for their video needs.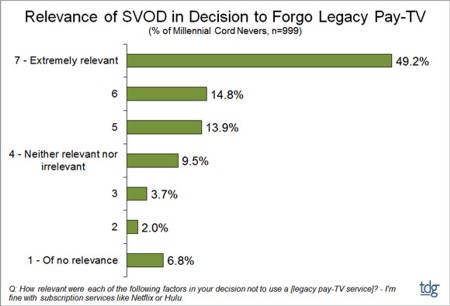 More than half (55%) of U.S. SVOD providers' businesses are based on subscriptions, according to related market research from Parks Associates released in July.
The U.S. 9th Circuit Court of Appeals recently ruled that sharing passwords for these services without the consent of the provider is a crime under the provisions of the U.S. Computer Fraud and Abuse Act. Companies aren't likely to pursue and take legal actions against violators, at least in the case of individuals, who typically pay less than $10 a month in subscription fees, however, Parks says.