Fixed broadband is "on thin ice" in the U.S. as the mobile first generation may be fueling broadband cord cutting, according to ReportLinker. Although the majority of households still access the Internet via fixed connections (cable, telco, fiber, etc.), nearly 4 in 10 said they usually use mobile for home Internet access, according to new research from ReportLinker.
ReportLinker points to Census Bureau data as further evidence of broadband cord cutting. According to the Dept. of Commerce agency's report, the number of U.S. households that rely solely on mobile devices and wireless network connectivity for Internet access doubled to 20 percent between 2013 and 2015.
The shift is particularly strong among young adults. Thirty-nine percent of Americans ReportLinker surveyed said they "usually use" mobile devices to connect to the Internet at home. That rose to 55 percent among Millennials and 60 percent of respondents aged 18-24. But an important and interesting observation regarding these findings – how many of those millennials are actually connected via a home fixed broadband connection using Wi-Fi on that mobile device, and don't even make or understand the distinction?
At the other end of the age spectrum, the large majority of older Americans surveyed said they rely on residential broadband connections: 69 percent of "Older Generation" Americans and 77 percent of respondents aged 55-64.
Broadband Cord Cutting Limitations
As versatile and powerful as they are, smartphones don't do the trick when it comes to online tasks that are more time intensive and require more user input, however, the Pew Research Center found. According to Pew researchers, smartphone-only Internet users are finding that approach has limitations and cannot serve as a substitute for home broadband access and PC use. This is particularly true when it comes to important online activities, such as training, education and lifelong learning.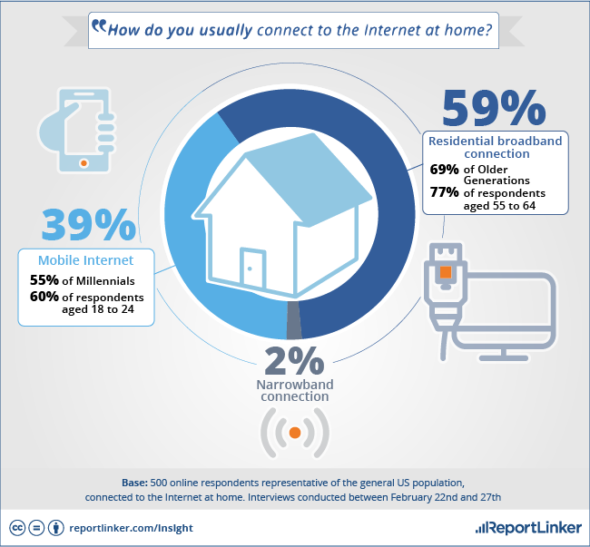 ReportLinker found the same. Smartphone-only Internet users suffer due to reduced readability of small screens and greater difficulty when it comes to filling out and submitting forms and applications. Smartphone-only Internet users are more likely than those with fixed home broadband connections to make use of public libraries and other venues where public network connections and PCs are available, according to the report.
The rise in mobile-only Internet access has prompted U.S. wireless network carriers, such as T-Mobile and most recently, Verizon, to reintroduce unlimited data plans, ReportLinker notes.
That said, 31 percent of respondents told ReportLinker they already had unlimited data plans, and that was why they don't use a broadband connection at home. In contrast, 34 percent said they consider home broadband to be an "essential utility."
Those who rely on mobile broadband offered various reasons why they don't have a home broadband connection:
27 percent said they could do everything they want with a smartphone
15 percent said it's cheaper to have just one connection
15 percent said wireless network access is faster than a home broadband connection
8 percent said home broadband connections aren't reliable
On the flip side:
22 percent said they use fixed broadband at home because it came as part of a package deal
21 percent said cable broadband is much faster
17 percent said their home broadband data limit is much higher than their mobile data plan limit
5 percent said that not everyone in their household has a good mobile data plan
In related market research, eMarketer forecast the number of U.S. Internet users that rely exclusively on mobile devices to access the Internet at home to rise from 36.6 million to 40.7 million by the end of the year. That research also found that the number of customers with dual modes of home Internet access – fixed line and wireless – will rise to 210.4 million this year and 223.5 million by 2021.
Parks Associates also just published research, suggesting 10% of current fixed broadband connections are at risk for broadband cord cutting over the next year.