Despite a variety of ambitious, high-profile public-private initiatives, bridging the U.S. digital divide has proven a persistent challenge. Smartphone subscription services are broadening access to the Internet, but smartphone-only Internet users are finding that approach has limitations and cannot serve as a substitute for home broadband access and PC use, notes Pew Research center.
This is particularly true when it comes to key activities, such as training, education and lifelong learning, according to  new research from Pew.
One-third of Americans do not have high-speed Internet access at home, Pew found in 2015 research, slightly more than was the case in 2013. Increasingly, smartphones have come to be seen as a substitute.
Smartphone-Only Internet Users
About 13% of U.S. adults were smartphone-only Internet users in 2015, according to Pew, up from 8% in 2013. Those in this group are more likely to be younger, lower income, less educated, and black or Hispanic. These happen to be the same groups with lower rates of home broadband adoption, Pew notes.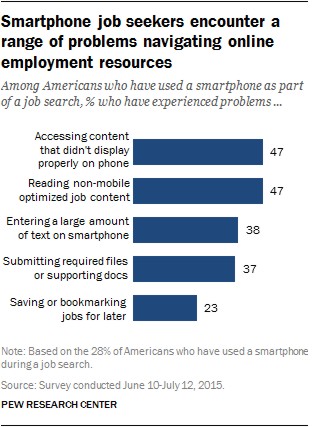 Furthermore, in a 2015 study Pew found that 19% of Americans are ¨smartphone dependent,¨ meaning they have some sort of Internet access beyond smartphones but rely primarily on their mobile devices.
Cost and data caps rank high on the list of problems that smartphone-only and smartphone-dependent Internet users come up against, according to Pew. Nearly half (48%) had canceled or suspended their Internet service because they couldn't afford it or reached their data plan caps (51%) Pew found in 2014.
Smartphone-only and smartphone-dependent Americans also face challenges when applying for jobs. Nearly 3 in 10 (28%) said they had used their smartphones to search for a job. Half of those said they had used their smartphones to fill out a job application.
That said, respondents reported having problems, such as trouble accessing or reading content and problems submitting files and documents.
Nonetheless, 65% of respondents to a 2015 survey said smartphones enable them to do all they need to do online. That said, cost was clearly important in their decision not to subscribe to a high-speed Internet service at home.
Access to public Wi-Fi and libraries that provide residents Internet access can help smartphone-dependent Americans to work around the lack of home Internet access. Smartphone-only Americans who said they had engaged in personal learning activities are much more likely (40% as compared to 24%) to access the Internet at a high school, college or community college.