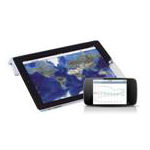 The latest market data from eMarketer reveals that the number of Americans who access the Internet solely via desktop, laptop or other types of personal computers will shrink to 17.9 million this year, down from 20.3 million in 2016. The trend is fueling a rise in mobile-only internet users, researchers said.
Looking ahead, eMarketer forecasts the number of people who only use computers for internet access will diminish further out to 2021, when just 10.7 million Americans will rely solely on PCs to access the Internet. The number of dual access desktop/laptop and mobile Internet users will rise coincidentally, reaching 210.4 million by year-end and 223.5 million by 2021, according to a company press release.
Mobile-Only Internet Users
Correspondingly, greater numbers of Americans will rely exclusively on mobile network connectivity for Internet access. "As smartphones and data plans become more affordable than ever, they are positioned to become the default device for internet access," said Corey McNair, author of eMarketer's, "US Digital Users: The eMarketer Forecast for 2017." "The number of these mobile-only users will see steady growth over the next few years, reaching 52.3 million in 2021."
The rising trend has its troubling aspects. One-third of Americans do not have high-speed Internet access at home and many of them instead rely on smartphones as their sole means of accessing the Internet, Pew Research Center highlighted in Oct. 2016. While beneficial, sole reliance on smartphones for internet connectivity has significant drawbacks, particularly in terms of being able to engage in key activities, such as education, training and lifelong learning.
Furthermore, Pew researchers found that those already at the lower end of educational and income scales are affected the most. About 13% of U.S. adults were smartphone-only Internet users in 2015, according to Pew, up from 8% in 2013. Those in this group are more likely to be younger, lower income, less educated, and black or Hispanic. These happen to be the same groups with lower rates of home broadband adoption, Pew noted.
eMarketer expects there will be 40.7 million mobile-only Internet users in the U.S. by the end of 2017, up from 36.6 million a year ago. Overall, three-quarters of U.S. Internet users will access the Internet via both mobile devices and PCs by year-end. For the five-year period, roughly 9 million dual-access Internet users will be added to their ranks, according to the market research provider.