How states are using money allotted to them through the federal Capital Projects Fund (CPF) varies considerably from one state to the next, according to Pew Charitable Trusts, which has been keeping tabs on state broadband funding programs.
Each state is slated to receive CPF money, which can be used for a variety of infrastructure projects, including broadband. Most states – 41 at last count – have already had broadband CPF funding released to them.
The CPF has a budget of $10 billion, which is less than the unprecedented $42.5 billion coming through the BEAD program that will be exclusively for broadband deployments. Nevertheless, it's a lot of money—and as Pew notes in a blog post, the rules for how CPF money can be used are less "prescriptive" than those for BEAD.
Some states are using CPF funding for broadband deployment programs that are highly similar to what is planned for BEAD – an approach that will get a jump on the BEAD program's goal of ensuring that all areas considered "unserved" by broadband will get service.
That, in turn, will enable states to use BEAD funding to reach some "underserved" areas, Pew notes. (BEAD rules call for funding to be used to reach underserved areas only when a state demonstrates that it can fully reach every unserved area first.)
Capital Projects Fund Uses
Other states are taking advantage of the "relative flexibility" of CPF's grant requirements to use them for purposes that "may not squarely fit" into BEAD program rules, Pew notes.
The researchers note, for example, that several states – including Maine, Minnesota, West Virginia and Pennsylvania – are using CPF money for line extension programs that help cover the cost of connecting individual homes to a broadband provider.
Another use of CPF funding – chosen by Kansas, Delaware, Idaho and Florida – is to purchase devices or public Wi-Fi equipment for multi-purpose community facility projects.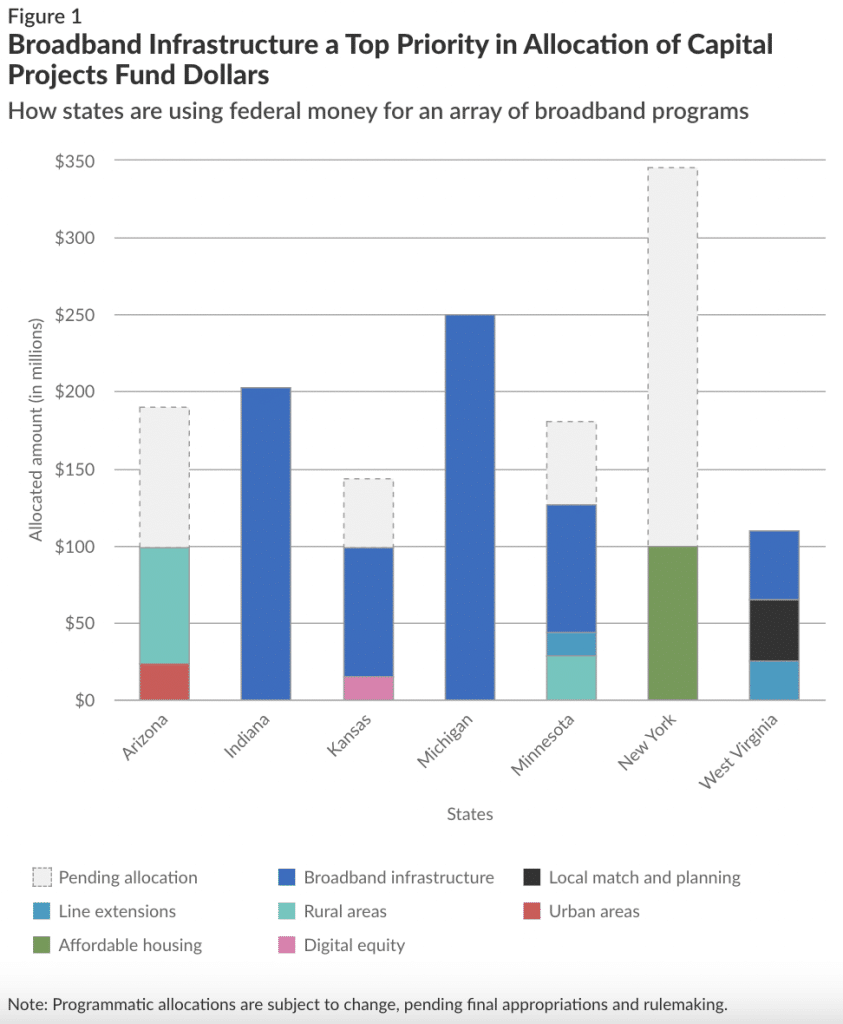 Yet another approach is to use CPF money for connectivity within public housing – an option chosen by New York, Nevada, Connecticut and Hawaii.
The blog post about the Pew research also notes that for several smaller states, CPF allocations may rival or exceed their BEAD allocations.