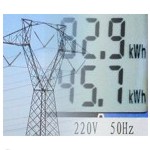 The Peninsula Light Company in Washington, also known as PenLight, will use the Verizon Grid Wide Utility Services Intelligent Energy platform in a smart grid deployment. The carrier will provide PenLight with electric meters with cellular connectivity to 33,000 members whose current equipment has reached end of life.
PenLight is a member-owned electric cooperative that serves Gig Harbor and the Key Peninsula areas. Grid Wide is a managed, cloud-based IoT platform-as-a-service. It enables remote configuration and end point monitoring and management. Verizon says it creates operational efficiencies, improves customer service and improves meter report and billing accuracy. It also provides better power outage identification and confirmation and improves response time.
"Utilities want to offer customers the benefits of IoT technologies, but can face costly infrastructure upgrades to do so," Steve Szabo, head of Verizon's Global IoT Products & Solutions group said in a press release. "Verizon's Grid Wide Platform-as-a-Service is a highly scalable and robust environment that combines a rich, world-class IoT application suite with the nation's largest, most reliable 4G LTE network. With near real-time data, Peninsula Light will gain the insights it needs to improve operational efficiency, control costs and offer an even higher level of service for its members."
New and emerging technologies, including the IoT, LTE and 5G are gradually creating smart cities and smart grid environments. This evolution has many dimensions and is not limited to urban and suburban areas. Last September, the U.S. Department of Agriculture awarded $43.7 million in funding for rural smart grid projects. The funding came out of a total award of $398.5 million aimed at improving electric service in 13 states.