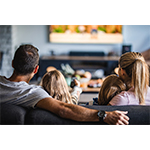 Thirty-nine percent of U.S. broadband households own a streaming media player. That's an uptick of 1% from 2018, according to Parks Associates. Despite the nearly flat growth, however, Parks' "360 Deep Dive: Adoption and Use of Connected Video Devices" found that purchase intentions are greater this year than in previous years.
The dynamic suggests market saturation and that the focus must shift from hardware sales to service and advertising revenue, Parks said. "Streaming media has reshaped how US consumers interact with entertainment content and services, so as the market matures, sales increasingly come at another vendor's expense," said Parks' Senior Analyst Kristen Hanich in a press release. "Video-quality features are the most important factors when consumers buy a connected video device, although Roku and Amazon have certainly benefited among streaming media players by having broad product portfolios that include lower price points."
Parks found that Roku and Fire TV from Amazon control almost 70% of the installed base. The company cites "consumer-reported data" to suggest that between the first quarters of 2017 and 2019 Roku's share of the streaming media player market went from 37% to 39% and Amazon's share grew from 24% to 30%.
The sense is that streaming is maturing and evolving as a video distribution channel. Earlier this month, for instance, Morning Consult found that consumers expect to pay a nice bit of change – from $17 to $27 – for video streaming. The optimal price point is $21.
The category's popularity is clear. In May, the American Customer Satisfaction Index (ACSI) found that the category scored 76 points on a 100-ppoint scale, which represented an increase of 1.3% over the previous study. Subscription pay-TV stayed constant at 62.