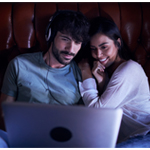 Consumers will soon have many more streaming choices with streaming services from WarnerMedia, Apple Inc. and Walt Disney Co. getting ready to compete with Netflix Inc., and with consumers only willing to pay so much money for their content. A new survey about what consumers are willing to pay for video streaming services comes from Morning Consult, conducted in conjunction with The Hollywood Reporter.
The research reveals that consumers expect to pay between $17 and $27 total for all their video streaming services, with the optimal price being $21. In determining the optimal pricing, Morning Consult used the van Westendorp model, which determines an optimum price point for a product or service by considering what prices consumers find to be "too expensive" and "too good to be true."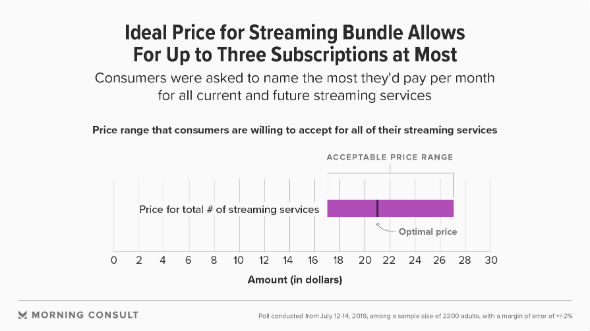 That price point is important when one considers that for $21, subscribers could have up to three standalone streaming services. For example, they could pay for ESPN+ for $4.99 a month, CBS All Access for $5.99 a month and Hulu for $5.99 a month, all before taxes. Those three services are the three cheapest options, according to the report.
If consumers were to add just one of the more expensive services such as WarnerMedia's HBO Max, Netflix or NBC Universal, however, that would push the consumers over the target $21.
In the survey, nearly two-thirds (66%) said they pay for up to two streaming services and 28% said they pay for three or four. Just 3% of streaming subscribers pay for five or six streaming services.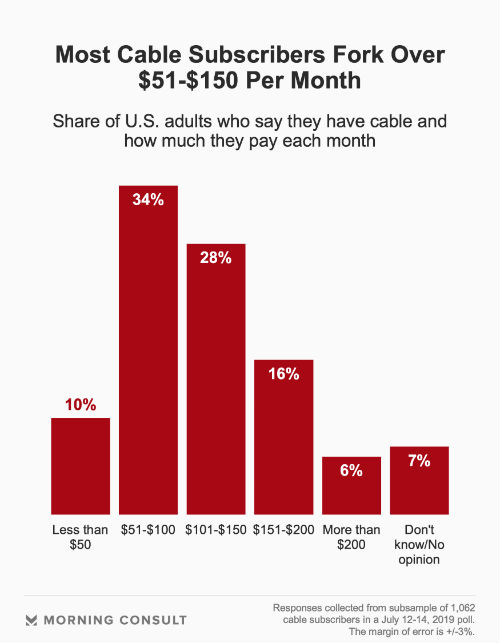 On average, consumers said they currently pay $38.85 a month for streaming services, with the median price at $25. Cable subscribers, not surprisingly, pay considerably more: Thirty-four percent of adults who have cable said they pay between $51 to $100 a month, with 28% paying $101 to $150 a month, according to the survey.