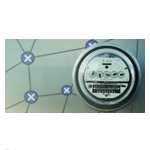 San Francisco's ArchRock Corp. today comes to market with a smart meter network platform for smart grids based completely "on industry-standard IP networking, security and data collection protocols," the company announced.
ArchRock's PhyNet-Grid is targeted at OEMs–particularly advanced metering infrastructure (AMI) and home area network vendors looking to enable their customers to move away from wholly or partly proprietary smart grid network platforms. Vendors who start integrating PhyNet-Grid into their products today can expect to have pilot deployments with their utility customers by late 2010, the company says.
The new smart meter will be compliant with a new wireless networking standard, 802.15.4, which is being developed specifically for SmartGrid wireless mesh networking.
"Up to now two types of AMI networks have been available to utilities," Roland Acra, Arch Rock CEO, commented. "One type was closed, proprietary RF mesh or power line communication-based systems; the other type was IP-based but cost-prohibitive because it used public wireless networks that required putting a cell phone in every meter or building an even costlier new, dedicated WiMAX infrastructure.
"PhyNet-Grid combines the new and established work of industry standards bodies in radios, Internet protocols, web services and powerful security mechanisms with the cost-effectiveness of Arch Rock's advanced real-time RF mesh network."
Previously known for its pioneering work developing wireless sensor networks, the federal government's National Institute of Standards and Technology is urging US electric utilities to adopt Internet standards in building smart grid systems. That's pushing them to make use of IP and other open industry standards ArchRock's used to develop PhyNet-Grid, Accra explains.
"From the beginning Arch Rock has not only been a strong proponent of the embedded IP and web standards that are now playing a major role in Smart Grid infrastructure, but has been a key contributor to the development of several of those standards, including IEEE 802.15.4e and the IETF's 6LoWPAN, ROLL and CoRE," says Accra