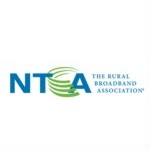 NTCA-The Rural Broadband Association represents rural broadband carriers, most of whom have roots as rural telcos. Broadband carrier is probably a better descriptive term these days, as many those 'telcos' also count cable TV, wireless (fixed and mobile), and cloud services as a part of their service portfolio. They recently published results from their annual Broadband/Internet Availability Survey, conducted in the Winter of 2014.
Rural Fiber Deployments
Deploying fiber based services remains a priority for NTCA members, with 39% of survey respondents citing the use FTTP technology in their networks today. Among current FTTP providers, 25% say they can reach their entire customer base with the technology. A little less than half (45%) of current FTTP providers reach at least half of their customer base with the technology, according to the results.
Forty-four percent of NTCA members offer stand-alone DSL, sometimes referred to as naked DSL, where broadband is offered without the requirement to purchase a phone line. These services aren't typically promoted or marketed heavily, since the loss of that phone line means the loss of USF support for that local loop component. Take rates for naked DSL were 10% or less as a result.
This finding may change dramatically, since there is movement at the FCC to support broadband-only local loops. A change that may come as early as the end of this year. NTCA has been very active in lobbying for this change.
Higher Broadband Tiers
Rural customers, like their urban counterparts, are subscribing to faster broadband speeds. Roughly one-third (33.6%) of NTCA carrier member customers are taking a broadband tier of 10 Mbps or more, the highest subscribed to category. That's a dramatic increase from a year ago, where NTCA reported that only 8.5% subscribed to a similar tier, an improvement of almost 400%. The survey report didn't offer any additional detail of the actual speeds offered beyond "above 10 Mbps."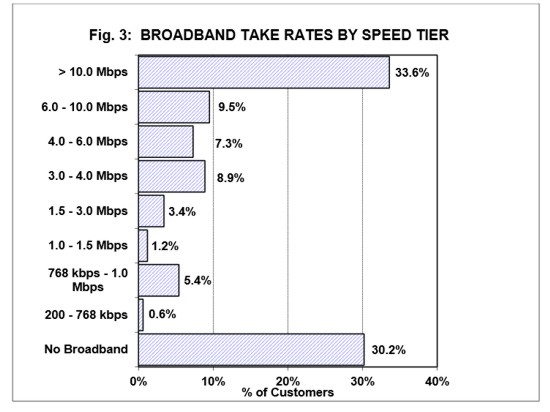 Interestingly, the second most popular "broadband tier" (30%), was no broadband service at all. Close to 10% of customers take a broadband service tier of between 6 Mbps and 10 Mbps. Over 10% of subscribers take a broadband tier of 3 Mbps or below.
Overall broadband penetration for NTCA members is 70%, according to the survey results. NTCA defines broadband service as a service that offers throughput of at least 3 Mbps in one direction. Defining broadband service has become somewhat controversial. The FCC moved to define broadband as a downstream throughput service of at least 25 Mbps, with a major exception.
As it relates to providing support to rural broadband carriers under the Connect America Fund (CAF), the FCC currently defines acceptable broadband as 10 Mbps downstream. But that does not apply for every rural broadband carrier, at least not yet. The CAF rules that will apply for NTCA member companies have not been finalized yet.
Other key findings from the survey include:
18% of survey respondents currently offer broadband via cable modem service
31% of survey respondents currently offer VoIP service
73% of survey respondents currently offer video service
92% of survey respondents identified the cost of fiber deployment as a significant barrier to widespread deployment