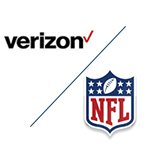 The National Football League and Verizon have launched a multi-year partnership in which Verizon's digital and mobile media properties, including Yahoo Sports, will stream in-market and national games, regardless of mobile network. This new NFL Verizon deal eliminates Verizon's previous exclusivity for mobile streaming of games.
The deal includes national pre-season, regular season, playoff games, and the Super Bowl nationwide to sports fans, starting with the playoffs that start in January of 2018. It's reportedly worth over $2.5 billion.
The agreement will also provide viewers with access to NFL highlights, jointly developed original content as well as the live games.
"We're making a commitment to fans for Verizon's family of media properties to become the mobile destination for live sports," said Lowell McAdam, Verizon Communications chairman and CEO, in a press release. "The NFL is a great partner for us and we are excited to take its premier content across a massive mobile scale so viewers can enjoy live football and other original NFL content where and how they want it. We believe that partnerships like this are a win for fans, but also for partners and advertisers looking for a mobile-first experience."
"Verizon has been a key NFL partner, both in the distribution of games on NFL mobile and as a sponsor, since 2010 and we're thrilled to be both extending and expanding our relationship with them," add NFL commissioner Roger Goodell, in a prepared statement. "Our expanded partnership with Verizon is great for our fans."