Most mobile users are staying with their legacy providers despite untold marketing dollars carriers spend trying to convince consumers to switch, according to new mobile churn research from Parks Associates.
The research firm finds that only 14% of U.S. mobile subscribers switched providers as the most recent change to their mobile service plan. Additionally, only 39% of mobile subscribers have made a plan change in the past 12 months, typically either a plan upgrade or a new phone. One-third of mobile customers have not made any changes in their mobile services for more than two years.
"Unlimited data offerings are no longer effective levers to attract customers from competitors," said Kristen Hanich, Parks Associates research analyst, in a prepared statement. "The challenge now is to find ways to increase ARPU without negatively impacting customer satisfaction. Currently, with few exceptions, the top spenders give their mobile carriers a low NPS (net promoter score), ten points lower on average than the lowest spenders. Carriers are searching for new ways to upsell without alienating their subscriber base."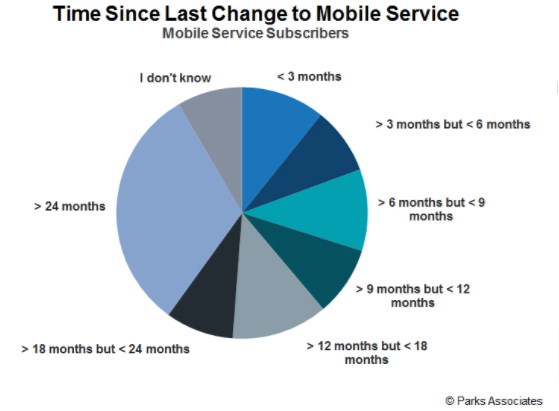 Mobile Churn Research
Parks Associates finds prepaid services score high NPSs, indicating consumers respond positively to simplified billing. Currently, postpaid carriers are starting to explore new value-added services such as bundled entertainment packages as new upsell options.
"AT&T exempted DIRECTV from mobile data caps, so its subscribers get video benefits with their mobile services," Hanich said in a prepared statement. "AT&T is looking to offer a wireless-centric video service offering, and in response, T-Mobile and Verizon are moving to introduce their own OTT TV services this year."
The research, Mobile Service Churn: Managing Consumer Expectations, analyzes successful service provider strategies in the competitive mobile industry and explores reasons behind consumers' decision to change operators or stay with their existing one. Additional findings include:
New smartphone purchases account for more than 50% of all changes that customers make on their mobile service plans.
On average, U.S. broadband households pay over $60 more per month for postpaid mobile service than they do for prepaid service.
Monthly expenditure for mobile service is greatest among Sprint and Verizon subscribers.