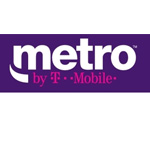 T-Mobile today announced a MetroPCS rebrand. The carrier's prepaid unit will now be known as Metro by T-Mobile. T-Mobile also announced two new prepaid unlimited plans for the Metro service, with pricing beginning at $50 a month.
The $50-a-month plan includes expanded storage and mobile backup through the Google One offering, along with mobile hotspot capability with 5 gigabytes (GB) of LTE per month A $60-a-month offer raises the mobile LTE hotspot capability to 15 GB per month and includes a subscription to Amazon Prime as well as Google One.
Amazon Prime includes a bundle of benefits such as free shipping on products ordered from the online retailer, as well as streaming video and music offerings and more.
MetroPCS previously offered a $50 unlimited plan but it was intended to be for a limited time, although the length of that time was not established in advance. That offer did not include Google One, however.
Metro by T-Mobile offerings also include lower-cost options, including a $30-a-month plan that includes 2 GB of data and a $40-a-month plan that includes 10 GB of data.
In a press release, T-Mobile cautions that on all Metro by T-Mobile plans "the fraction" of customers using more than 35 GB per month "may notice reduced speeds until next payment cycle due to prioritization" and that "video streams at 480p."
MetroPCS Rebrand
The MetroPCS brand became part of T-Mobile five years ago, when T-Mobile acquired wireless carrier MetroPCS, which was focused on the low-cost market.
In a video about the MetroPCS rebrand, T-Mobile CEO John Legere suggested that the new brand name was intended to reposition MetroPCS service and to overcome misconceptions about prepaid service.
[embedyt] https://www.youtube.com/watch?v=Kukfpqvz4rU[/embedyt]
The prepaid category "suffers from a perception that's a decade old," Legere said. When T-Mobile asked consumers what they thought about prepaid service, the consumers used terms such as "burner phones," "cheap flip phones," "limited coverage" and "for people with bad credit."
"I hear this and it drives me crazy because it is so wrong," Legere said.
According to Legere, "the differences between prepaid and postpaid have basically disappeared," with the only difference being whether customers prefer to pay in advance or after they have used service.
T-Mobile noted in today's press release about the MetroPCS rebrand that while MetroPCS covered only 103 million people in 2013, Metro by T-Mobile covers more than 323 million people. And while MetroPCS offered just a few handsets, Metro by T-Mobile offers a wide variety of Android and iOS smartphones, including the latest releases.
T-Mobile said it will support Metro by T-Mobile with a new advertising campaign with a "That's Genius" theme.