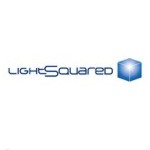 LightSquared's filing for bankruptcy protection yesterday has generated much industry speculation about what will happen with the company's spectrum holdings. Although that spectrum is officially designated only for satellite use, LightSquared attempted to repurpose it to support a nationwide wholesale LTE network that would be supplemented with satellite service. The company got as far as launching a satellite and building a test LTE network, but its terrestrial plans failed as a result of concerns that the service would interfere with global positioning equipment.
One theory is that DISH Network wants to obtain the LightSquared spectrum so that the portion of that spectrum farthest from the GPS band can be used for upstream communications for the company's planned 4G terrestrial network, thereby freeing up all of DISH's current spectrum holdings for downstream use. Supporters of this theory note that, according to news reports, DISH recently bought $350 million in LightSquared debt.
The idea of how DISH might use the spectrum apparently originated in a blog post penned by Tim Farrar, a satellite broadband analyst with TMF Associates. But in the same post Farrar cautioned that some people have been deliberately spreading misinformation about LightSquared and that the DISH rumors could be another example.
DISH hasn't confirmed or denied interest in LightSquared – although DISH CEO Charlie Ergen reportedly stated on a recent earnings call that the company had enough spectrum for now. DISH is waiting for the FCC to adopt a proposed rulemaking that would pave the way for the company to offer a terrestrial-only service by eliminating a current requirement that handsets have both terrestrial and satellite communications capability.
If DISH really isn't interested in the LightSquared spectrum, the next question is who would be interested – and the answer could be more people than one might expect. I'm not an expert on wireless technology, but it would seem that if DISH could use the LightSquared spectrum for upstream-only terrestrial service, others could too.
We should also keep in mind that LightSquared already has launched a satellite, which in combination with the company's spectrum holdings, might be of interest to a satellite broadband provider such as Hughes or ViaSat.
Meanwhile, LightSquared's announcement about its bankruptcy filing suggests the company still hasn't given up on its original idea for a hybrid satellite-terrestrial network. According to the announcement, the bankruptcy filing was made to "give it time to resolve regulatory issues that have prevented it from building its coast-to-coast integrated satellite 4G wireless network."