The pay-TV business continues to evolve, with video providers experimenting with new models in the hopes of finding the right mix that appeals to a very diverse audience of consumers. The latest attempt comes from Sling TV, who will now offer individual channel subscription options, among other new services.
Sling TV will now make several channels available a la carte, to both existing subscribers, or anyone else. Any consumer can now buy these individual channels without having to subscribe to one of Sling's base subscription services.
The individual channel selection is pretty light for now, including Showtime ($10 per month), CuriosityStream ($6 per month), Stingray Karaoke ($7 per month), Dove Channel ($5 per month), Outside TV Features ($5 per month), UP Faith & Family ($5 per month), Pantaya ($6 per month) and NBA League Pass ($28.99 per month). Sling says they're working on adding additional channels to this a la carte line-up.
Sling TV is not alone in this approach. Amazon has been pursuing this approach with their Prime TV package, also allowing individual channel purchases. It's a trend that some analysts think may expand, both in terms of availability of individual channel purchasing and the number of video providers who will offer it. Amazon is widely seen as the leader of this new approach. Apple is reportedly looking to launch a similar approach.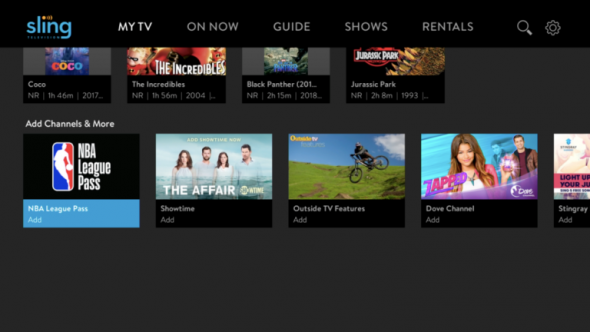 This is, of course, an ongoing debate, with consumer advocates pushing for more a la carte options over the high-cost model of forced bundling of channels in pay-TV channel line-ups. So-called a la carte TV is seen as the opposite of that approach, allowing consumers to pick and pay for only the channels they want. The status quo pay-TV ecosystem prefers the higher cost bundling approach and the predictable and lucrative revenue streams it produces.
That opens the door to disruptive models and is why there is so much evolution going on in pay-TV today, with new vMVPD entrants like Sling TV joining the likes of Netflix and others with lower-cost alternatives. The challenge, though, is no one model has emerged as the winner in a very fragmented industry, hence all this ongoing experimentation.
Sling TV Enhancements
Other announced Sling TV enhancements include making its slate of PPV content available to anyone, whether they are a Sling TV subscriber or not. PPV events, including UFC and boxing matches,  are now available as just a single purchase. The same is true for movie purchases.
Additionally, Sling is offering free access to about 100 hours of on-demand TV shows and movies for "returning customers." It appears to be an attempt to woo back customers who have moved on from Sling for whatever reason. These Sling TV enhancements are currently only available on the Roku platform but will expand to others, according to the company.
"When we first launched Sling in 2015, we set out to create an entertainment experience that put our customers first, offering unprecedented flexibility and control – no annual contracts, no hidden fees and the ability to customize programming," said Warren Schlichting, president of Sling TV in a press release. "The new Sling evolves the experience even further by providing access to great content without anchoring customers to a base subscription."