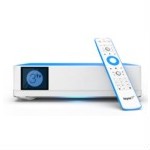 A Colorado municipal broadband provider will complete their triple play bundle with a hosted video offer from Layer 3 TV. Longmont Power & Communications, located outside of Denver, currently offers broadband and phone under the NextLight brand.
Layer 3 TV, based in Denver, is a start-up IP video provider, offering a premium IP-based cable service featuring an all HD line-up (4K capable), 400 hour DVR service, and no contracts. They also use sleek electric vehicles for their service calls, including BMW i3 vehicles, and as Multichannel News found out, Teslas for the Longmont deployment. Layer 3 TV does not overbuild markets or offer their service wirelessly (at least they haven't done so yet).
Rather, they lease capacity from existing broadband providers, and deliver their service over existing wireline facilities. For example, in their Washington D.C, market, they ride the broadband pipes of Comcast, Cox, Verizon Fios, or RCN, a company rep confirmed with Telecompetitor today. It's not OTT video – it's managed video across a closed broadband network. They are currently offering service in Chicago and DC, with Denver on tap.
Municipal Broadband Hosted Video
Municipal broadband providers looking for a video solution may be their next target. First reported by local publication, the Daily Camera, Longmont residents are already signing up for the service, which is promotionally priced at $74/month ($99 normally). NextLight will compete with Comcast and CenturyLink in Longmont.
"It's a marriage of the best broadband and the best traditional cable," said Lindsay Gardner, chief content officer for Layer3 to the Daily Camera. "We are very proud of what we are delivering in partnership with NextLight."
It's a co-marketing agreement, where the TV service is branded as Layer 3 TV. Terms were not disclosed. There didn't appear to be any triple play bundling packages available yet on the NextLight website. They currently offer Gig service for $99.95 or 25 Mbps service for $39.95. Digital voice is an additional $25. By my math, a patched together triple play service could be as low as $140.