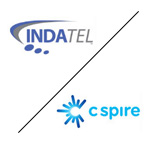 Network of networks service provider Indatel is growing. The aggregator of regional networks spanning the country, with emphasis on rural connectivity, has added regional carrier C Spire to the fold. The Indatel C Spire news highlights a broader expansion strategy for the national network.
C Spire brings an 8,600-route mile fiber network spanning Mississippi, Alabama and Tennessee to Indatel's growing national fiber footprint. C Spire also operates multiple data centers and has major locations in 12 cities across its 3-state footprint.
Indatel C Spire Deal
C Spire's assets will join Indatel's aggregated network that spans 100K fiber route miles and touches 300K buildings, with 1,100 points of presence. Those assets come from 30 Indatel members who collectively reach over 5,000 communities across the country. Indatel currently has six major POPs across the country.
Most Indatel members are regional fiber networks owned by over 700 rural telecom companies. Adding C Spire highlights a move by Indatel to expand their membership base beyond their core membership of RLEC owned regional fiber networks.
"We're pleased to join a nationwide network that provides best-in-class connectivity and reliable bandwidth solutions in rural and urban areas," said Don Monistere, general manager of C Spire Business in a press release.
Indatel CEO Mel Wagner added, "With our expert teams, tools and network, we're excited about partnering with C Spire to provide Ethernet connectivity, content delivery and internet access to even more customers in rural areas."
Indatel gives their regional network members an ability to have national reach for their connectivity and business-class services. A key value proposition for Indatel, as it aims to grow business for these member companies through a coordinated sales and marketing effort, is an ability to offer reach into thousands of rural communities that often can't be reached by national network competitors.
C Spire also offers regional wireless service and has a growing broadband services footprint using both FTTx and fixed wireless.