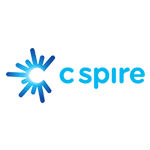 C Spire today launched fixed wireless service at speeds up to 100 Mbps in 40 markets in the company's home state of Mississippi. C Spire fixed wireless service will be available to consumers in 22 markets and to businesses in all 40 markets, supporting speeds up to 100 Mbps, the company said. Businesses will pay $70 a month for the service and consumers will pay $60 a month. A total of 91,000 locations will have access to the offering.
The company previously conducted trials of the technology and in those trials, the company saw coverage of up to 10 miles, a company spokesperson told Telecompetitor. "We anticipate that five miles is likely more realistic in terms of services that we would provide our customers," the spokesperson said.
C Spire Fixed Wireless
The C Spire fixed wireless service launch will use unlicensed spectrum operating in the 5.8 GHZ UNII band, the spokesperson noted. In the future, however, "we intend to use a variety of bands as well as licensed and unlicensed for our fixed wireless product," he said.
He also noted that the company is primarily using products that do not require line of sight. The technology is not based on LTE but is proprietary, he said.
C Spire is using some of the towers that support its mobile service to also support the fixed wireless offering. In addition it is establishing new cellsite locations, according to the spokesperson.
"Our preference will be to use existing structures," he said.
Customers taking C Spire fixed wireless service will have the option of purchasing the company's new streaming TV service, dubbed C Spire TV, for $65 a month with a standard channel package, according to today's press release. C Spire TV uses the company's previously announced app, which eliminates the need for a set-top box.
C Spire announced plans for fixed wireless service in September.
The C Spire fixed wireless launch is one element of broader efforts to improve connectivity in Mississippi. The company also has launched fiber-to-the-home service in some markets.