A long discussed Hulu vMVPD service was unveiled today and it offers a streaming OTT payTV alternative to traditional payTV services offered by cable, telco, and DBS operators. Hulu with Live TV joins a crowded streaming OTT payTV field which includes DIRECTV NOW, PlayStation Vue, Sling TV, YouTube TV, and a few others.
Hulu with Live TV is a beta launch and is priced at $39.99/month for about 50 channels, a cloud based DVR with 50 hours of storage, and two simultaneous streams. It also includes the core Hulu SVOD service, which is normally priced at $7.99/month.
The service includes all four major local broadcast channels in some markets, with access to fewer in other markets. It all depends on where they have rights. In the Washington DC market for instance, they currently only offer access to FOX and NBC. But in New York City, they offer access to all four local channels.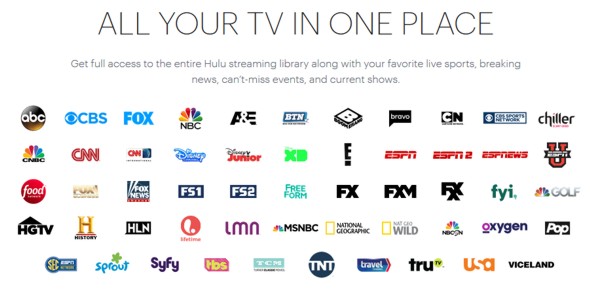 Like most vMVPDs, Hulu with Live TV also offers select regional sports networks from both FOX and Comcast/NBC. Other key content includes channels from A+E Networks, FOX Networks, Disney/ESPN, NBCUniversal, Time Warner/Turner, and Scripps. Notable omissions include Discovery Networks and premium channels from HBO and Starz. Showtime is available at additional cost.
The service has premium add ons at additional cost. Cloud DVR service can be upgraded to 200 hours and unlimited simultaneous screens (limited to 3 outside of the home, unlimited in the home) are available for an additional $14.99/month each or $19.99 for both. The Hulu vMVPD service currently supports Android (including STBs) and iOS devices, Apple TV, XBOX One, and Chromecast. Support for Roku, Amazon Fire TV, and additional devices will be coming later.
This Hulu vMVPD service seems to stack up well against other vMVPD offers, although it's priced towards the higher end. Sling TV starts at $20/month (not including cloud DVR) and PlayStation Vue (including cloud DVR) can be had for $30/month.The additional core Hulu SVOD service with its original programming offers some differentiation and the inclusion of cloud DVR helps. Other features include the ability to create user profiles, including kids' profiles, offering some form of parental controls.
[embedyt] https://www.youtube.com/watch?v=qLvS-G67pCU[/embedyt]
With the addition of this Hulu vMVPD service, we now have six legitimate OTT streaming competitors to traditional payTV service, providing plenty of cord cutting opportunities. CenturyLink, and even Comcast, may soon join them. Realistically though, we may have to redefine cord cutting, because these services increasingly look and act like traditional payTV.
So if a consumer drops Xfinity TV to move to Hulu with Live TV, how is that any different than if that same customer drops Xfinity TV for Fios TV?