Two mantras emerged from Frontier's Investor Day webcast today: "Our future is fiber" and "Do what cable can't." These mantras are driving the company's plans, announced today, for fiber expansion through 2025 and beyond.
The company's strategy, now that it has shed debt through a bankruptcy process, is to "continue to be the largest pure play fiber provider," said Nick Jeffery, Frontier President and CEO, on the webcast today.

To support that goal, the company said it will deploy fiber to 600,000 additional locations by the end of 2021, bringing the total number of locations to which the company offers fiber broadband to 4 million – an initiative known as Wave 1.
Wave 2 will span 2022 to 2025, when the company will make fiber available to 6 million additional locations, bringing the company's reach to 10 million locations by 2025. Beginning next year, the company will begin offering a 2 Gbps symmetrical service, which according to Jeffery, "cable can't match."
The Wave 3 fiber expansion has not yet been defined but will include more rural areas where the company expects to see government funding opportunities available to help cover deployment costs.
"We expect to be an active participant in these programs," said Scott Beasley, Frontier's chief financial officer, on the webcast.
Currently Frontier's cost to deploy fiber per home passed is running in the $500 to $600 range but will increase to the $900 to $1,000 range in Wave 2. The company expects to see take rates in the 15% to 20% range within a year of making service available to an area, reaching a "steady state" take rate in the mid-40% range within several years.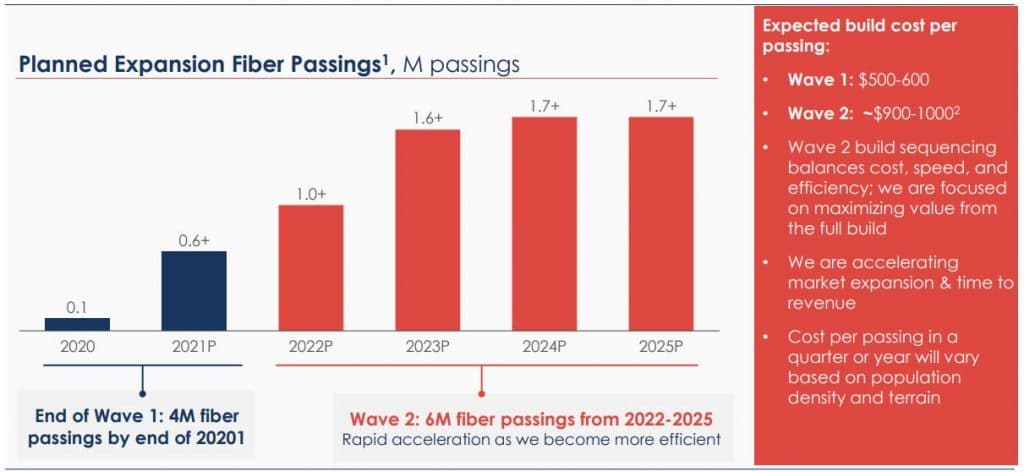 In 88% of its markets, the company has no competitor or only one, according to the slides from today's presentation.
Doing "What Cable Can't"
Frontier will be able to offer 2 Gbps service, in large part, through a simple optics change, said Veronica Bloodworth, chief network officer for the company, on the webcast.
"The network is already 10 Gbps capable," she said.
The company's claims about the superiority of its service are based largely on limitations of the cable network design that make it difficult for cable companies to broadly match upstream speeds with downstream speeds at a time when customers are using more upstream bandwidth than they did in the past.
Bloodworth also argued that fiber networks have a lower cost to maintain and have lower energy requirements.
The SMB Market and Wave 3
Frontier also said today that it expects to focus more closely on the small and medium-size business market, targeting that market with virtually the same offer that will be available to residential customers.
Jeffery noted that the company has one million small and medium size businesses in its footprint.
Regarding the Wave 3 markets not yet targeted for a Frontier fiber expansion, Beasley said the company is open to asset sales, partnerships, asset swaps and other options.
"Initially we thought we would do the best we can" in making broadband available to these markets, perhaps by using a combination of copper and fiber.
Over time, however, the company has been thinking more aggressively about this market, particularly considering the strong valuations that sellers achieved in this market – an apparent reference to deals such as the one involving Lumen announced yesterday.
What About the Brand?
As it charts its new course, Frontier will need to decide what to do about its brand, which has suffered as a result of the company's bankruptcy and loss of DSL customers to faster cable service.
Jeffery said the company is "in the middle of a full review" of brand attributes and customer attitudes toward the company and will consider various options based on that review. Among those would be a new brand or a sub-brand.
The company's core focus, however, "is on changing what we do," Jeffery said.