Lumen, formerly CenturyLink, said today that it plans to sell its incumbent local exchange carrier (ILEC) operations in 20 Midwest and Southeast states in a deal with Apollo Funds. The deal will not include Lumen large enterprise or competitive local exchange carrier operations in those states and the company also will retain its ILEC business in 16 other states.
On a conference call with investors, Lumen CEO Jeff Storey said that 70% of the markets that Lumen will retain in the deal are in urban and suburban areas and that those are the types of markets in which Lumen was most likely to invest in upgrading broadband service to its fiber-based offering known as Quantum.
The retained markets are primarily in the western states that were formerly served by U.S. West. The divested markets include 1.3 million broadband subscribers, including 59K fiber subscribers, with 200k locations passed with fiber. Lumen will retain 3.4 million broadband subscribers, including 687K fiber subscribers.
"Our retained markets have significantly higher fiber penetration, population density, enterprise demand and overall growth opportunities than the transferred assets," said Storey on the conference call.
He hastened to add that the operations being sold include "good markets with quality assets, talented employees and excellent customers."
Nevertheless, he said, "As we look at these states, we knew that we were unlikely to prioritize investment in these markets ahead of our other opportunities in enterprise and Quantum Fiber."
Apollo Funds, however, does see an opportunity to invest in upgrading markets in the 20 states that it will be acquiring. Assets in the Lumen deal include local fiber and copper networks, broadband-enabled homes and businesses, fiber- and copper-fed buildings, lit towers, and central offices.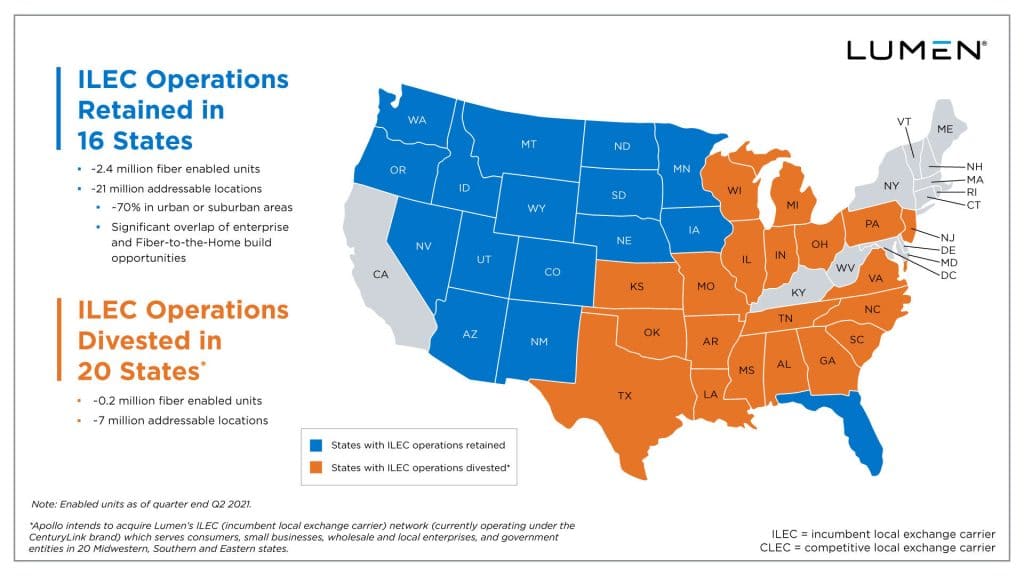 "Our investment will help accelerate the upgrade to fiber optic technologies, and we are excited to have such a high-caliber management team ready to bring faster and more reliable internet service to many rural markets traditionally underserved by broadband providers," said Aaron Sobel, private equity partner at Apollo Funds, in a press release about the Lumen 20-state sale.
Apollo Funds will pay $7.5 billion for the business it is acquiring from Lumen and will assume approximately $1.4 billion in debt.
Apollo is acquiring Lumen's "consumer, small business, wholesale and mostly copper-served enterprise customers and assets" in the 20 states.
The news of the Lumen 20-state sale is not surprising. The company in 2019 said it would explore strategic options for its consumer business, including a possible sale. Lumen has shifted much of its focus to the enterprise market since it acquired Level 3 Communications several years ago.
The Lumen Apollo deal is expected to close in the second half of 2022. Additional details about the transaction can be found in this press release.