The national public safety network framework has now been solidified, with all 50 states opting in to FirstNet, the public-private partnership effort between AT&T and the U.S. Department of Commerce. FirstNet will build an interoperable $46 billion wireless broadband network for public safety use.
Individual states had until December 28th to opt-in to the plan. Two additional U.S. territories and Washington D.C. also selected FirstNet, including Puerto Rico and the U.S. Virgin Islands.
"This is a landmark day and monumental achievement for public safety – one that has been years in the making," said First Responder Network Authority Board Chair Sue Swenson in a press release. "There are many who said this network would never happen, but public safety never gave up on their network."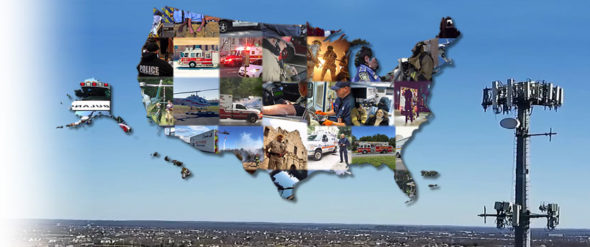 FirstNet Opt-in Drama
This outcome was not without some drama. New Hampshire had indicated plans to opt-out of FirstNet, and go with Rivada for their state public safety network. But that decision was apparently based on a contingency that other states would also opt out of FirstNet and join New Hampshire. With no other states opting out, New Hampshire changed course, and decided to join FirstNet as well.
"Following our decision to opt-out and go with the Rivada plan that provides better coverage, more system control and an opportunity to share in the revenue streams of the business, we proceeded to have extensive discussions with other Governors across the country to help them understand the benefits of such a system," said New Hampshire Governor Chris Sununu in a statement. "While we were successful in working with First Net to remove the unreasonable fees and penalties, the decision deadline of December 28th approached too quickly for these other states to feel confident in an opt-out decision."
The First Responder Network Authority's public-private partnership with AT&T will use $6.5 billion raised through the reverse auction of TV broadcast spectrum and an additional $40 billion to be contributed by AT&T. The FirstNet partnership gives AT&T access to 20 MHz of spectrum in the 700 MHz band, in which the public safety network will be built. When and where that network is not in use by public safety, regular AT&T customers will be able to use it.
Construction of the network will begin in 2018, according to the FirstNet press release, with "[w]ork orders to deploy the RANs in all 50 states, Washington, D.C., and the two opt-in territories in early 2018." The network will operate in band 14 of the 700 MHz spectrum band. It's expected to become operational in some form in March of 2018.
Still Not Entirely Settled
While all 50 states have opted in to FirstNet, it does not obligate individual public safety agencies within those states to buy services from FirstNet. It obviously gives AT&T a huge advantage in selling services to those agencies, but Verizon has vowed to continue to offer their own communications services, including a new public safety core network to some public safety agencies.
It's not entirely clear whether Verizon's and AT&T's public safety networks would be interoperable with each other, which was a key goal of the entire FirstNet initiative.