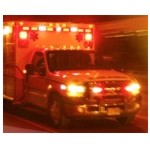 Verizon said today that it will build a network core to support a nationwide mobile broadband service for public safety users. This would put it in competition with AT&T, which won a contract to build a nationwide public safety network dubbed FirstNet. The Verizon FirstNet alternative will be offered even in states that have chosen to have AT&T build and operate FirstNet there.
Verizon's move is not surprising, considering that, according to a company spokesman, the company currently has two-thirds of the public safety market nationwide.
"Our customers will want to stay with us," the Verizon spokesman said in a phone interview with Telecompetitor. "They know what we can offer. Another option for public safety is always good. Competition and choice drives innovation, choice and better pricing. That's what public safety will see from having another option out there."
According to the spokesman, even if a state opts to have AT&T build the FirstNet network in that state, individual agencies within the state can choose to use Verizon for public safety network connectivity.
Questions about the extent to which the two networks will interoperate remain, however.
Verizon FirstNet Alternative
AT&T gained exclusive use of 20 MHz of low-band spectrum when it was awarded a contract by the federal government to build the FirstNet network. Verizon, instead, will rely on its existing spectrum holdings to support its alternative offering and will not use AT&T's spectrum, the Verizon spokesman confirmed.
As AT&T continues to win contracts to build the FirstNet network in individual states, remaining states have the option of choosing someone other than AT&T to build the network in their individual state.  What Verizon plans to offer is different, however, because the Verizon network would be nationwide and would not use FirstNet spectrum. Verizon noted in today's press release, however, that it will make available multi-band devices that will be fully interoperable with radio access networks deployed by FirstNet.
When AT&T won the coveted FirstNet contract earlier this year, the federal government (in addition to providing spectrum) said it would contribute up to $6.5 billion toward network construction, with AT&T pledging to invest $40 billion over 25 years in the network. AT&T also can use the FirstNet spectrum for regular customers' traffic when network capacity is not in use by public safety.
Verizon boasted in today's press release that its public safety network solution "does not require access to any federal funding provided to FirstNet." The company also noted that states will not be expected to provide "any financial commitment to support network deployment."
Both AT&T and Verizon have said that they will prioritize public safety traffic and give public safety users the ability to pre-empt other traffic in situations when the public safety users need more capacity.
Asked for comment about the Verizon news, an AT&T spokesman avoided any direct comparison between the two company's offerings. Instead, he noted that AT&T's nationwide FirstNet core should be live in March 2018 and that it "will soon route and encrypt all FirstNet traffic, creating the highly secure environment public safety requires."
Interoperability Questions
Verizon signaled several weeks ago that it might have plans to pursue business opportunities involving the nationwide public safety network when the company sent a letter to the FCC asking the commission to clarify whether a state could use a public safety network core from someone other than AT&T.
Some major questions remain about the interoperability of the AT&T and Verizon public safety offerings, however. And that's a big concern, considering that a key goal of the network was to enable public safety personnel in different areas to be able to easily share photos, videos and the like with one another – something they can't do currently. To fulfill this mission, both public safety network cores would need a way to recognize and authorize traffic to and from public safety users on the other network.
The Verizon spokesman noted that public safety traffic could be exchanged over commercial networks. But asked what would be needed to enable the AT&T and Verizon offerings to exchange traffic between one another's users over the public safety networks and whether any such agreement about that had been made between the two carriers, the Verizon spokesman said in an email that "we have not had any discussions with FirstNet or AT&T about making the two network cores interoperable."
So why issue today's press release at this time?
It would appear that Verizon is trying to force the government's and AT&T's hand on the interoperability issue.