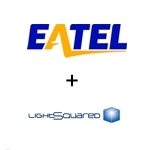 LightSquared has been on a tear with signing up new wholesale partners for their pending nationwide 4G LTE wireless network. Especially considering they haven't really built it yet and they face significant opposition from some well entrenched players, including the GPS industry.
The latest to join the effort – EATEL, a Gonazales, La based rural ILEC serving Ascension and Livingston Parish communities in Louisiana. EATEL is the first traditional ILEC to sign up for LightSquared, who plans to offer a wholesale national 4G LTE network with both terrestrial and satellite components to partners who can then resell services under their own brand.
"EATEL is exactly the type of company that LightSquared is building its wholesale network to serve," said Sanjiv Ahuja, chairman and chief executive officer of LightSquared in a press release, suggesting LightSquared may be in the market for more rural ILEC partnerships. "We believe EATEL and the many other ILECs around the country provide critical and valuable communications services to their communities, and their customers deserve the benefits including ubiquitous connectivity and lower prices enabled by partnering with LightSquared."
Should LightSquared get aggressive in pursuing more rural ILECs, they would join Verizon and NetAmerica Alliance, both of whom also offer a rural 4G LTE play in partnership with rural providers. Verizon has signed 12 carriers to their LTE in Rural America program and NetAmerica Alliance has identified five rural carrier partners.
EATEL apparently looks at the LightSquared opportunity as not only a mobile broadband play, but also as a potential expansion opportunity. "LightSquared's network not only allows EATEL to offer our existing customers wireless broadband services, it also gives us a critical competitive advantage as we expand our services into new markets," said John D. Scanlan, EATEL president in the LightSquared press release.