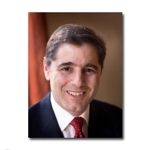 In an announcement issued today, FCC Chairman Julius Genachowski "called for" at least one community with gigabit broadband in all 50 states by 2015.  The chairman, who called the initiative the "Gigabit City Challenge," encouraged broadband providers and state and municipal community leaders to work together to achieve the gigabit goal.
Noting that there are approximately 42 gigabit communities in 14 states with ultra-high-speed Internet providers, Genachowski essentially seems to be asking broadband providers and community leaders "If they can do it, why can't you?"
Would-be gigabit champions won't be required to figure out all of this on their own, however. Genachowski said the FCC will hold workshops on gigabit communities and announced plans to create an online clearinghouse of best practices for lowering costs and increasing the speeds of broadband deployment nationwide.
In today's announcement Genachowski argued that the U.S. needs a "critical mass of gigabit communities nationwide so that innovators can develop next-generation applications and services that will drive economic growth and global competitiveness."
Genachowski credited a gigabit network in Chattanooga, Tenn.  with helping to create 3,700 new jobs in Chattanooga over the past three years by attracting employers such as Volkswagen and Amazon. He also pointed to "new entrepreneurs and startups" that have settled in Kansas City as a result of the gigabit network Google has built there.
"American economic history teaches a clear lesson about infrastructure," said Genachowski. "If we built it, innovation will come."
Genachowski also gave a nod to the Gig.U initiative  which has helped jumpstart the creation of gigabit networks in several university communities including Seattle  and to the broadband stimulus program that funded high-speed "middle mile" networks between communities nationwide and which he encouraged gigabit network planners to tap into.