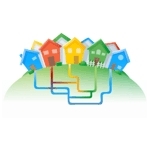 On a YouTube webcast today, Google offered details about the services it will deliver over its long-awaited gigabit network, including plans to offer a free service delivering 5 Mbps downstream and 1 Mbps upstream, as well as a symmetrical gigabit offering that includes one terabyte of cloud storage. The company also plan to offer the gigabit service in a bundle with an advanced video service that includes a free Nexus 7 tablet that can be used for viewing and controlling video.
The free service will be available for seven years to anyone who pays an installation fee of $300 that can be spread over 12 monthly payments.
The gigabit offering will cost $70 a month and Google will waive the $300 installation fee for those who commit to a one-year contract. The gigabit offering bundled with the video offering will cost $120 a month and the company will waive the installation fee for those who commit to a two-year contract.
The services are not available yet, however. The installation fee is designed to cover the costs of bringing fiber from a neighborhood location to the home – and Google plans to prioritize which neighborhoods get fiber using what executives on the You Tube webcast today called a "rally approach."
The company is asking residents of Kansas City, Kan. and central Kansas City, Mo. to pay $10 between July 28 and September 9 to register for service and plans to deploy service first to neighborhoods where the greatest interest is expressed. As part of the deployment, the company also pledged to connect schools, libraries, community centers, public safety locations and government building in each neighborhood. However, the company appeared to leave open the possibility that some neighborhoods might not get service if an insufficient number of people register.
High-speed Internet
Interestingly, Google did not tout a lot of new applications that could be enabled using gigabit connectivity – although executives did note that new applications were bound to result.
Instead, executives demonstrated how much faster everyday applications such as movies and downloads could operate with the higher speed. The goal, one of the executives said, is to eliminate all the time people spend "waiting, downloading and buffering."
Google unveiled several devices, which the company apparently helped develop, to support its planned offerings, including:
A network box with four gigabit Ethernet jacks and what Vice President of Access Services Milo Medin called "great WiFi"
A two-terabyte storage box designed as a home DVR, onto which users also can load personal media for access on all TVs in the home
A new set-top box that has built-in WiFi capability to help support WiFi throughout the home
The video offering
Google's video offering has been the subject of much speculation and today the company provided considerable detail about the offering, which will provide:
Free Nexus 7 tablet for viewing and controlling video using an internally-developed interface, with support for additional tablets or smartphones
Ability to view or record up to eight shows simultaneously
One terabyte of cloud storage
Hundreds of fiber channels (apparently these are cable channels)
Tens of thousands of shows available on demand
On today's webcast, executives also vowed to continually enhance the new Google Fiber offerings. Among other things, the company promised to provide details about business-focused services soon — and Medin asked people to "stay tuned" for "cool" things Google will be doing with WiFi.