Facebook has achieved broadband transmission of 20 Gbps over an eight-mile distance using millimeter wave technology, according to a Facebook blog post. The Facebook millimeter wave broadband wireless technology could be used for several different applications, eventually including connecting the company's Aquila communications drones with ground stations, the blog post said.
Other applications might include providing backhaul connectivity for Facebook's OpenCellular wireless access initiative or as backup to free space optical communications.
"One of our goals is to provide connectivity in areas without traditional infrastructure and reliable power sources," said Facebook.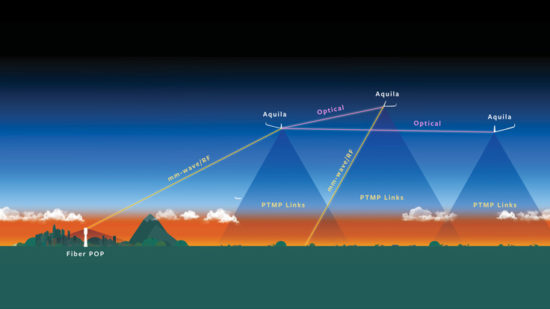 Facebook Millimeter Wave Broadband Wireless
Facebook is one of numerous companies exploring the possibility of wireless communications in the millimeter wave band – high-frequency spectrum that the FCC is eying for a potential future auction and possibly for unlicensed use.
The Facebook millimeter wave broadband wireless technology needs to address several technical challenges in order to succeed, Facebook said.
One key challenge is power. Any broadband wireless solution for remote rural areas cannot have demanding power requirements. Facebook's unmanned aerial vehicles (UAVs), commonly known as drones, for example, are solar-powered, enabling them to remain in the air for months.
In the blog post, Facebook notes that for long-range high-capacity links, high-power RF amplifiers tend to be the largest DC power consuming components of the system. To address this, Facebook developed a technique known as post-amplification spectrum multiplexing, which enables the use of multiple smaller, more efficient power amplifiers instead of a single big amplifier.
Other key challenges include delivering both long range and high capacity. Facebook said it addressed these challenges with custom-built millimeter wave (MMW) power amplifiers. Those amplifiers use high-efficiency power-combining techniques to overcome traditional transmit power limits, enabling them to output 10 times the transmit power of equivalent off-the-shelf radios, according to the Facebook blog post.
Facebook is currently flight testing its first-generation air-to-ground technology capable of transmitting 20 Gbps bi-directionally, the company said. "The aerial payload is mounted on a Cessna aircraft and is being flown at altitudes up to 20,000 feet," according to the blog post.
In early 2017, Facebook expects to begin testing a second-generation offering that will support 40 Gbps bi-directionally.
"We will continue to push the limits of wireless capacity over long ranges while staying within the tough size, weight and power constraints of Aquila communications payloads," the company said.