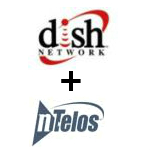 DISH and nTelos must like what they see with a fixed wireless trial using LTE, which was first announced in May of this year. Today, both companies announced an expansion of the pilot project that they hope will eventually reach over 500K homes in nTelos' Virginia footprint.
"Results from the first phase of our trial were encouraging," said James A. Hyde, CEO of NTELOS Holdings Corp. in a press release. "By combining forces and leveraging our collective assets, we have been able to successfully deliver fixed wireless broadband service with competitive throughput and speeds."
We previously reported that DISH and nTelos were claiming throughput speeds of 20 to 50 Mbps for the fixed wireless service which requires an antenna installation at the customer's home. That data rate is on an "unloaded" network, which would probably be reduced significantly when hundreds or thousands of customers come on line. By comparison, Verizon offers a fixed wireless service, HomeFusion, using LTE (although in a different spectrum band) and promises speeds of 5 to 12 Mbps.
DISH has acquired a significant amount of spectrum and has kept the industry guessing regarding its wireless plans. This trial highlights one potential outcome for DISH – an elusive home broadband service that they could use to be more competitive with their wireline cable MSO and telco adversaries who can offer a double play of TV and broadband. Conceivably DISH could add voice as well using this fixed wireless technology, completing the triple play bundle.


"With nearly a fifth of U.S. households underserved by broadband, a fixed wireless solution could deliver an additional broadband option to millions of consumers," said Tom Cullen, DISH executive vice president of Corporate Development in a press release.
For this particular trial DISH is using TD-LTE technology and 2.5 GHz spectrum licensed to nTelos. DISH pursued much more of this spectrum in their failed attempt to buy Sprint/Clearwire.
By partnering with nTelos, and perhaps other regional wireless carriers, DISH can leverage an existing customer base for a home broadband offer. In turn, wireless carriers like nTelos beef up their ability to compete with Verizon Wireless, who has partnered with the cable industry to bundle wireless, home broadband, and TV.