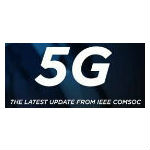 A group of license holders including Dish Network hopes to persuade the FCC to allow the use of MVDDS spectrum for 5G wireless service, including two-way mobile broadband service. The spectrum, in the 12.2-12.7 GHz multichannel video and data distribution service (MVDDS) band, has been in the hands of licensees since 2000. Licensees currently are allowed to use the spectrum for one-way digital fixed non-broadcast service on a co-primary shared basis with direct broadcast satellite (DBS).
"The 12.2-12.7 band is ideally suited to be made available for increased sharing with existing DBS services to allow new use for the 5G services," wrote the MVDDS/5G Coalition in a petition to the FCC about MVDDS spectrum for 5G. The coalition notes that the spectrum band meets all of the criteria the FCC plans to use in evaluating the suitability of spectrum for 5G use including:
It offers at least 500 MHz of contiguous spectrum.
It allows for a "flexible regulatory framework."
It promotes international harmonization.
It enables 5G sharing with existing incumbent license assignments and uses.
The MVDDS/5G Coalition asks the FCC to issue a further notice of proposed rulemaking (FNPRM) to adopt the coalition's recommendations.
The coalition's petition already has the backing of U.S. Senator Cory Gardner of Colorado, where Dish is based. Gardner last week wrote a letter to the FCC commissioners urging them to issue the FNPRM.
MVDDS Spectrum for 5G
5G services are expected to provide high bandwidth and low latency and to require a lot of spectrum. Finding a sufficient amount of spectrum to support 5G has been challenging because so much spectrum is already in use today. The telecom industry has been eyeing a range of bands for 5G use and Verizon already has been conducting trials in the 28 GHz spectrum band.
5G initially will be a fixed wireless technology, but standards eventually will be established to enable 5G to support mobile broadband use with extremely low latency – a service that could support futuristic applications such as self-driving cars.
Dish Spectrum Holdings
According to the MVDDS/5G Coalition, MVDDS spectrum has been underutilized because of difficulties persuading equipment manufacturers to build equipment for use in that band. And MVDDS isn't the only underutilized spectrum in Dish's hands. The company also has holdings in other bands that could be used for terrestrial fixed or mobile data services that have not been built out. This includes some spectrum originally intended for satellite use.