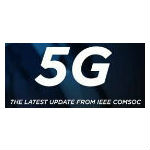 From a technology standpoint, 5G wireless gigabit technology has the potential to deliver ultra-high-speed broadband service to the home, potentially making it a competitor to landline options, said Verizon Executive Vice President Fran Shammo at an investor conference today.
But although 5G could support gigabit speeds, "the question is could we deploy it and make money at a price the consumer would pay," Shammo said. Shammo made his comments at the Morgan Stanley Technology, Media and Telecom Conference, which was also webcast.
Verizon has been experimenting with 5G technology from multiple vendors in five different markets where the FCC gave the company permission to use 28 GHz spectrum for trial purposes. Based on what Verizon has learned, Shammo said the company believes 5G service could be launched in 2017 if spectrum were available.
"We're trying to accelerate the FCC to clear spectrum," Shammo said. He added that FCC Chairman Tom Wheeler recently visited Verizon's location in Basking Ridge, N.J. – one of the places where the 5G technology has been deployed.
Shammo noted that when wireless carriers upgraded from 3G to 4G technology, costs decreased four- to five-fold (presumably on a per-bit basis). 5G has the potential to provide a similar cost advantage over 4G technology – at least with regard to video delivery, he said.
Data Centers, Custom TV, Go90
Other notable comments from Shammo at today's event:
Verizon would consider selling data centers to "take cash now" so it could "do something else to increase shareholder value." Shammo views the move as akin to selling wireless towers
The take rates for Verizon Custom TV have increased to about 40% since the company rebundled the offering – an increase from a previous level of about one-third
Shammo predicts more conflicts between content and linear video providers — and more channels being dropped from video service provider lineups. He believes Verizon's Go90 offering gives the company negotiating power with content providers, though, because Go90 offers an additional way to monetize content