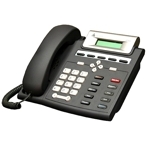 Both the telecom and cable industries are facing declining revenue from their mutual legacy core services and are actively looking for ways to replace that revenue. Both cable and telco have identified hosted IP centrex services as a promising growth area, setting up an interesting competitive battle. Cox just announced their VoiceManager IP Centrex platform is now available across their entire footprint.
VoiceManager IP Centrex is a cloud based hosted IP voice product targeting the SMB sector. A Cox representative tells Telecompetitor the optimal business size for this platform is 5 to 50 seats. The platform has been available in select Cox markets for some time and they report "several thousand" seats have already been sold.
Cox has decided to go with a single focus on Cisco CPE for this offering. There is no upfront cost for equipment and customers pay a monthly recurring fee for each seat. Cisco IP Phones, an edge device (eSBC), and a Cisco Power Over Ethernet Switch are included in the package.
This is not a bring-your-own-broadband (BYOD) offer, so customers have to be on Cox's network to take advantage of "…layer 3 QoS and superior voice quality/reliability compared to over-the-top solutions," a Cox spokesperson said. Pricing for the service was not revealed.
Cox joins a host of other providers from both the telecom and cable industries with similar offers. Comcast launched their version of hosted IP voice last year. Verizon has their version as do a number of CLECs and other providers, including a growing number of small independents. The hosted IP voice segment is shaping up to be one of the most competitive fronts in the growing battle between telco and cable.