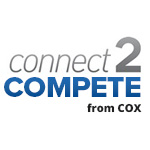 The Cox Connect2Compete low-income broadband offering is having a positive impact on school children, according to family members surveyed by Cox.
The offering provides low-cost broadband for low-income households, with the goal of helping school children. The 1700-respondent survey found that great majorities feel that the broadband offering makes it easier to communicate with teachers and the school (95%), "sets children up for success" (94%) and increases children's interest in school work (88%). Nearly all respondents (97%) said the convenience of having internet access at home is among the greatest benefits.
"With convenient, reliable internet access at home, students can readily focus on their school work, explore their passions and ultimately reach their full potential in life," said Cox Communications' President Pat Esser in a press release. "We will continue devoting important resources – including discounted internet service – to bolster their success and close the digital divide."
The survey found that most of the people using Connect2Compete are first-time Internet users who lack digital literary skills. These people can use the Cox Digital Academy, a source of free digital training and other resources.
Cox said it is increasing its investment in Connect2Compete, committing $20 million annually to the program.
The results from the Cox Connect2Compete survey echo what users of a Comcast low-income Internet Essentials broadband have said. In survey results announced last month, 93% of respondents said the service has had a positive impact on their children's grades. In addition, 62% of the customers for its Internet Essentials low income broadband service say it has helped them or a family member to find a job.
A condition of Comcast's merger with NBCUniversal seven years ago was the formation of Internet Essentials.