New Hampshire legislators last year passed a law allowing municipalities to fund broadband networks through bond offerings – and that action already is spurring broadband deployment in sparsely populated areas of the state. One of the biggest beneficiaries of this is Consolidated Communications – the company that is the incumbent local carrier in a large part of the state as a result of its acquisition of Fairpoint Communications several years ago.
Consolidated is already offering service on a new network in Chesterfield, N.H. that was paid for, in part, by Consolidated and, in part, by the city. And as Consolidated Vice President of Consumer Products Rob Koester told Telecompetitor in an interview, the company expects to build more broadband networks through public-private broadband partnerships in the state in 2020.
Public-private broadband partnerships are "a very big deal" for Consolidated, Koester said "We do rural broadband. That's what we, in large part, do."
Consolidated Public-Private Broadband
The New Hampshire law, which Koester calls "transformational," requires networks funded through municipal bonds to support speeds of at least 25 Mbps downstream and 3 Mbps upstream – although the ones Consolidated is building will support higher-speed service. Another requirement: The network must serve an area where service at speeds of at least 25/3 Mbps was not already available.
The Chesterfield network is in Consolidated's local service footprint, as are most of the other networks for which Koester has seen requests for proposal (RFPs) issued. This might initially seem surprising, considering that the typical public-private broadband partnership to date has involved a competitive carrier. Whenever I talk to municipalities that have built their own networks, I almost always hear the same story: They talked to the incumbent, but the incumbent had no interest in upgrading its infrastructure to support high-speed broadband, so they took matters into their own hands.
So, what's different for Consolidated?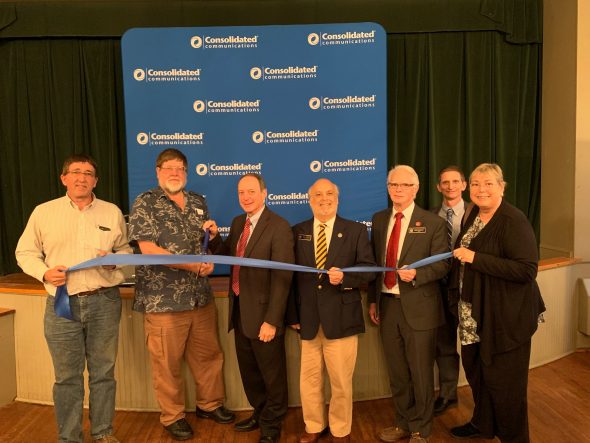 "It's a different conversation now than it was two years ago," said Koester. "The conversation has completely changed. Two years ago, [the question was] 'What are you going to do to expand broadband?' Today, the conversation is a complete 180. It's 'What can we do?'"
What "cracked the ice," Koester said, is that there is a greater understanding of the economic question today.
"We don't wake up every morning and say, 'How can we underserve a town?' I've seen locations that would cost $12,000 to $20,000 to upgrade and I've seen $50,000 per location. When you charge $50 a month, it's hard to recover $7,000 just in installation costs and we see that regularly."
Koester doesn't know how many other companies responded to Chesterfield's RFP, but he believes Consolidated won, in part, because it has very deep middle-mile long-haul fiber in northern New England that can help minimize deployment costs. But more important, Koester believes, is the business proposal Consolidated laid out for the public-private broadband network.
"What we brought to the table was the end user infrastructure fee that will be applied to any fiber connection until the bond is paid off," Koester explains. This approach enabled Chesterfield to issue the bonds without a tax increase and without using any money from the general fund.
This approach also has virtually eliminated potential opposition from residents who might not be interested in broadband and therefore wouldn't want to help pay for the deployment.
The city will own the network until the bond is paid off, at which point ownership will transfer to Consolidated. Until then, "we have an IRU [indefeasible right of use] to operate [the network], just as we would any other network we constructed," Koester explained.
The bonds will cover most of the costs of the aggregation infrastructure and Consolidated is covering costs from the pole to the home, along with customer premises equipment and labor.
To date, Consolidated has won every RFP involving public-private broadband to which it has responded in New Hampshire, and Koester isn't aware of any to which the company hasn't responded.
Considering the apparent success of the Consolidated-New Hampshire public-private broadband partnership model, it wouldn't be surprising to see more states enabling the same option.
"We've talked to a lot of people in other states," Koester said. "There is a lot of interest in this and how it's working."