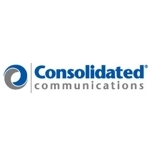 Consolidated Communications is pursuing public-private broadband opportunities in five more communities, said Consolidated President and CEO Bob Udell on the company's third-quarter earnings call today. The partnership opportunities would involve making broadband available to 10,000 more locations in total.
Udell noted that Consolidated this week began turning up fiber-to-the-home service  in Chesterfield, N.H. that came about through a public-private partnership that leveraged municipal bonds to fund network construction.
"We have five additional opportunities in the pipeline totaling nearly 10,000 passings, all of which would begin construction in 2020," Udell said. "This is a unique model that is perfectly suited to leverage our capabilities as an incumbent provider in rural markets."
Public-Private Broadband
According to an AP report, the Chesterfield network was funded through a $1.8 million bond, in combination with $2.5 million contributed by Consolidated.
Consolidated also has at least one other public-private broadband partnership in place. The company has such an agreement in Brooklin, Maine.
Public-private broadband partnerships aren't new, but typically the private partner is a competitive rather than incumbent carrier. Consolidated, so far, has been unique among publicly-held incumbent carriers in pursuing such opportunities.
Other highlights from today's earnings call:
The company saw 2% growth in broadband revenues over last year, an accomplishment the company attributes to customers taking higher broadband speeds
In the last two years, the company expanded broadband to more than 750,000 primarily rural connections
In third quarter, the company increased speeds to 1 Gbps to 62,000 locations in northern New England
The company plans to expand availability of its CCiTV video service beyond Portland, Maine to New Hampshire and Vermont by year-end
Nearly 70% of CCiTV customers bring their own devices
Consolidated expects to participate in the proposed reverse auction to award broadband subsidies through the Rural Digital Opportunity Fund, the proposed replacement for the Connect America Fund. The company anticipates bidding on areas within its incumbent serving area and in neighboring areas