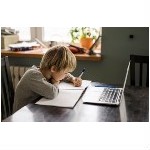 The COVID-19 pandemic is forcing wide scale and improvisational changes to how people lead their lives. This is nowhere truer than in education, where millions of schoolchildren have suddenly been told that the den or kitchen table is their new classroom. Supporting education during COVID-19 is high on the priority list.
Many service providers are turning their attention to supporting school systems and the education ecosystem as a whole. Both AT&T and Verizon have announced programs and free and lowered cost initiatives aimed at helping teachers and schools to salvage as much as possible of the fractured school year.
AT&T made a series of announcements yesterday, including:
Qualifying schools that activate new lines on certain data-only plans by May 22 for school-issued tablets, LTE-enabled laptops and hotspot devices will get wireless data service for no cost for 60 days.
AccessMyLAN service that enable administrators to control the websites to which the students have access, will be available for free. The service also blocks malicious content, malware and hacking.
Students, teachers, and parents will have access to Office@Hand Premium, which is powered by RingCentral, for free for 60 days. The service enables quick activation of video meetings and always-on chat groups that lets teachers and students share files and collaborate. It also enables schools to set up hotlines and phone, fax and SMS capabilities. The service will be available to students in grades K-12 as well as healthcare and non-profit social service organizations.
A $10 million Distance Learning and Family Connections fund for at-home learning has been established. AT&T inaugurated the fund with a $1 million contribution to the Khan Academy.
Access from AT&T, a program that provides limited income households with Internet service for $10 per month, now is available to all households that participate in Head Start and the National School Lunch Program. New customers will get two months of free service.
"We know that schools and universities across America are grappling with the impact of COVID-19, and that moving the classroom into the home requires access to the internet for all students," Mo Katibeh, the executive vice president-chief marketing officer for AT&T Business, said in a press release about AT&T COVID-19 educational efforts. "This is an important step to help schools address the challenge. AT&T is committed to finding innovative ways to support education institutions during this public health crisis."
Verizon also is pitching in during the COVID-19 crisis. The carrier has tripled the monthly data allowance for the Verizon Innovative Learning program from 10 GB to 30 GB through the end of June. The carrier has committed $5 million to a No Kid Hungry Responds: Coronavirus initiative that will support Share Our Strength's No Kids Hungry campaign. Verizon also is providing another $5 million to supporting healthcare workers through the Center for Disaster Philanthropy (CDP) COVID-19 Response Fund and Direct Relief programs.
Many smaller providers are also turning to their local school systems to coordinate supporting education during COVID-19. That coordination can include having school systems verify student needs for connectivity and device support, which many service providers are now offering, including free internet access to enable distance learning. The FCC also recently moved to free up E-rate rules, which supports school connectivity.