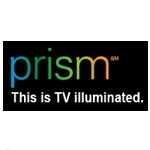 While researching my post about CenturyLink's move from DISH to DirecTV for DBS resale, I discovered prism TV – CenturyLink's new product name for their IPTV service. I either missed the press release on this one or CenturyLink has been quite quiet about it.
Prism replaces Advanced TV as the flagship IPTV product name for the soon to be third largest telco in the U.S. (after the Qwest acquisition closes). Prism is being offered in five markets so far – Columbia and Jefferson City, Mo, Ft. Myers, Fl, La Crosse, Wi, and Las Vegas, Nv.
It's a Microsoft Mediaroom middleware platform which CenturyLink delivers primarily over DSL. Prism is very closely aligned with AT&T's U-verse TV product – same middleware, similar FTTN architecture, similar feature set.
Unlike AT&T, CenturyLink charges a premium for whole-home DVR. CenturyLink pricing varies by market, based on the competition I presume. For example, whole-home DVR is offered for $7/month in La Crosse, but for $12/month in Las Vegas. They're lowest priced offer is  an introductory video package for $29.99/month and an intro prism powered triple play bundle for $85/month. But again, those prices are slightly higher in Las Vegas. They are competing with Cox in Las Vegas and have already been involved in some interesting competitive battles with them.
With the looming Qwest acquisition and the recent move to DirecTV for DBS resale, it will be interesting to watch the expanding footprint of prism and the competitive battles it takes on.