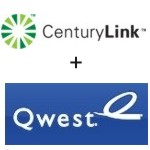 While not a terribly surprising development, it's nevertheless stunning to announce that Qwest and CenturyLink have announced a merger agreement. Under the terms of the announced agreement, CenturyLink will acquire Qwest in a tax-free, stock-for-stock transaction. The deal is valued at $22.4 billion, including the assumption of $11.8 billion of Qwest net debt outstanding as of December 31, 2009.
As of December 31, 2009, CenturyLink and Qwest served local markets in 37 states with approximately 5 million broadband customers, 17 million access lines, 1,415,000 video subscribers and 850,000 wireless consumers. The deal includes Qwest's nationwide fiber network and considerable enterprise presence.
Terms of the tax-free, stock-for-stock transaction have Qwest shareholders receiving 0.1664 CenturyLink shares for each share of Qwest common stock that they own at closing. Upon closing of the transaction, CenturyLink shareholders are expected to own approximately 50.5 percent and Qwest shareholders are expected to own approximately 49.5 percent of the combined company.
The new companywill be headquartered in Monroe, Louisiana and current CenturyLink CEO Glenn Post will assume CEO duties of the combined company. Current Qwest CEO Edward Mueller will have a seat on the new company's board. They will maintain a significant presence in Denver with the Qwest Business Markets Group (essentially the original Qwest, prior to its merger with USWest) headquartered there. The companies expect the deal to close in the first half of 2011.
CenturyLink-Qwest Footprint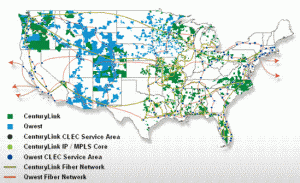 CenturyLink is still absorbing the CenturyTel-Embarq merger and now has taken on a much larger task with Qwest. The move accentuates the ongoing consolidation of local exchange carriers, particularly larger carriers that serve rural markets. In the past two years, we've seen the rise of the 'super rural carrier,' with this latest iteration taking the crown of the largest (although with Qwest and former Embarq territories, CenturyLink will now have significant urban markets).
CenturyLink has taken the path of hypergrowth through acquisition to better weather the storm of the changing local exchange business. This latest move will surely fuel more rumors of even more deals among the other super rural carriers of Windstream, FairPoint, and Frontier. Stay tuned.