S
even winners of Connect America Funding, including some of the largest U.S. carriers, are exploring DSL Rings technology developed by Genesis Technical Systems as a means of boosting the bandwidth of installed copper telephone wiring. Genesis has spearheaded the creation of an industry group, to be known as the Residential Access Carrier Consortium, in support of DSL Rings technology.
"The idea behind [the consortium] was to get economies of scale," said Genesis CEO Peter Khoury in an interview with Telecompetitor.
Genesis announced this week that Cincinnati Bell achieved home broadband speeds of up to 200 Mbps symmetrically using the DSL Rings technology. According to Khoury, other companies looking at the technology include AT&T, CenturyLink, Verizon and Windstream "to name a few."
The speeds that carriers will actually be able to provide individual customers using DSL Rings will depend on a variety of factors, but even for customers in rural areas with long copper spans to the central office, Genesis expects to be able to deliver speeds of 20 Mbps downstream and 4 Mbps upstream.
DSL Rings Technology
DSL Rings technology can work on networks that have fiber over part of the path between the central office and the home or over networks that rely totally on copper. One element of DSL Rings is the use of bonding technology to combine multiple copper links together to act as a single higher-speed connection. Using this approach, the company bonds all of the copper wires between a distribution point serving up to 16 individual homes and the central office or, if fiber has been extended to a neighborhood node, between that node and the distribution point.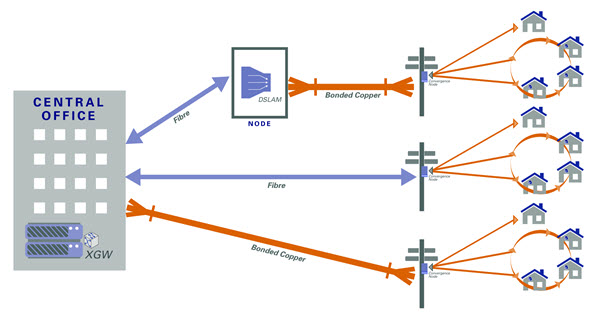 Using this approach, the bonded copper bundles essentially become backhaul links for all of the homes served from that bundle. Importantly, the homes served from an individual distribution point also are connected to each other over a logical ring architected on the existing tree-and-branch topology.
"The ring takes whatever the backhaul bandwidth [is] and gives everyone [on the ring] access to it," explained Stephen Cooke, president, chief technology officer and founder of Genesis Technical Systems.
Key to the DSL Rings topology is what the company calls a "Convergence Node" that is installed at the distribution point. The convergence node provides restoration capability based on resilient packet ring technology originally developed for Sonet and SDH.
"We have the ability to have a service level agreement on the ring," noted Cooke.
Each convergence node also has add/drop multiplexing functionality – and that could be an important capability in rural areas.
Rural Deployments
As Cooke explained, a typical rural copper deployment uses 24 copper pairs in a bundle from the central office. When the bundle reaches a group of homes – say four to five – a distribution point is installed and a portion of the fiber pairs are "dropped off" to serve those houses. The cable that continues further from the central office still has 24 copper pairs, however, and the process continues to additional distribution points.
The DSL Rings approach creates a ring at each distribution point, with copper pairs re-bonded to serve each new ring, Cooke explained.   (story continues below)
More distant customers will be served using ADSL 2+ while closer customers will be served using VDSL, Cooke explained. According to Cook, ADSL2+ can support 15 Mbps per pair downstream over a distance of two kilometers. Multiplying that by 24 pair yields total bandwidth of 360 Mbps for a small group of homes to share, while total upstream bandwidth would be in the range of 24 Mbps to 48 Mbps.
The upshot, Cooke said, is that "the telco could sell services to each home at 20 Mbps downstream and 4 Mbps upstream and whenever bandwidth is available, you can burst up to 100 Mbps [downstream]."
Customers close enough to the central office to be served using VDSL2 might be able to burst up to 200 Mbps downstream when bandwidth was available, Cooke said.
It's easy to see why the major carriers are interested in this technology, as potentially they would be able to meet Connect America Fund broadband speed requirements without deploying fiber. CAF requirements state that carriers should deploy minimum speeds of 10 Mbps downstream and 1 Mbps upstream.
Even at maximum-length copper connections, customers would have 240 Mbps to share when served by 24-pair bundles, Khoury and Cook noted.
According to Genesis, a DSL Rings deployment can generate a return on investment within 12 to 18 months. Khoury and Cook estimate the deployment cost per home served at between $500 and $600.
Genesis has 20 patents on DSL Rings and another 50 pending, the execs said. Not surprisingly, Khoury is general counsel as well as CEO.