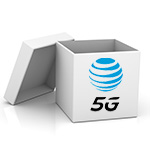 AT&T is making progress on its plan to use software controlled generic hardware devices, also known as white boxes, in its 5G wireless network core. In a blog post this week, AT&T Chief Technology Officer and President of AT&T Labs Andre Fuetsch described the progress of several AT&T 5G white boxes, including some that will be used in the radio access network and some that will be used in edge data centers.
AT&T 5G White Boxes
The radio access network (RAN) includes radios on towers, small cells and other types of equipment that traditionally "were specialized, expensive devices sold by a small number of vendors," said Fuetsch in the blog post. Vendors, he said, "dictated costs, technical capabilities and upgrade schedules. They controlled the hardware and the software."
This status quo no longer makes sense, now that carriers are deploying 5G wireless, which will support higher speeds and lower latency, Fuetsch argues. Wireless network traffic is expected to skyrocket, but carriers cannot afford to increase the price of service commensurately.
AT&T previously released specifications for a white box router for use in its 5G network and invited vendors to submit proposals to build the router. Today's blog post notes that the company is working on additional hardware specs with the O-RAN Alliance, an industry group focused on defining 5G white box requirements
In parallel, AT&T is working with industry groups to spearhead the development of open source software to control the white boxes. Yesterday's blog post notes that AT&T and Nokia have released the initial seed code for a 5G RAN intelligent controller (RIC) to The Linux Foundation, so that the software can be released into open source.
"There's still a lot of work to do, so we're asking companies and developers to join us and help continue driving the RIC code forward," Fuetsch said.
Edge Data Center White Box
The other AT&T 5G white box initiative highlighted in Fuetsch's blog post is something he calls the "network cloud white box," which he said is now live in the AT&T network and carrying 5G traffic.
This device would be a switch that would interconnect servers in the edge data centers that AT&T is establishing to support low-latency 5G wireless applications. Some of these applications need more processing power than end-user devices can support, which dictates a cloud approach. But the cloud resources must be located near the end-user to provide low latency.
The servers in the edge data centers are powered by the ONAP open source network operating system that AT&T played a key role in developing.
Also in the blog post, Fuetsch noted that AT&T has deployed white boxes in Toronto and London to support internet service for business customers and that the company plans to offer the devices in 76 countries by the end of the year. In addition, he said AT&T is working on technology that would enable a single fiber optic wavelength to carry 400 Gbps.