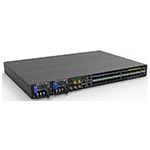 AT&T said it will release a specification for a white box router for use in its 5G network to the Open Compute Project this week. The AT&T white box 5G router spec is a reference design that "any hardware maker can use as a guide" to build routers, according to the carrier.
AT&T described the white box router as "an open hardware specification that can be coupled with a separate disaggregated software solution." The white box is a "high-performance, versatile router" that will serve as a cellsite gateway and will address changing backhaul needs as wireless carriers transition from legacy technologies to 5G radio access networks, AT&T said.
The carrier is developing its own network operating system software to control and manage the white boxes, which in addition to traditional wireless services are eventually expected to support new technologies such as autonomous cars, drones, augmented and virtual reality, smart factories and more.
Several manufacturers are expected to submit detailed hardware designs that are compliant with the AT&T white box 5G router spec at an upcoming meeting of the Open Compute Project, an initiative originally started by Facebook. But AT&T apparently is looking for additional potential vendors.
"If you've got the skills and an entrepreneurial spirit, we want to see what you can do," the carrier said in a press release about the AT&T white box router.
AT&T White Box 5G Router Spec
AT&T said earlier this year that it expects to deploy 60,000 white boxes over "the next several years" to support its 5G plans.
The carrier cited several benefits of the white box approach to its 5G router in today's press release:
Decoupling hardware and software gives network operators the option of choosing software to match their business and operational models
Supports a wide range of speeds on the client side including 100M/1G needed for legacy baseband unit systems and next-generation 5G baseband unit systems operating at 10G/25G and backhaul speeds up to 100G
Operates at industrial temperature ranges (-40C to +65C)
Features the Broadcom Qumran-AX switching chip with deep buffers to support advanced features and QoS
Includes a baseboard management controller for platform health status monitoring and recovery
Includes a powerful CPU for network operating software
Has timing circuitry to support a variety of inputs and outputs to meet evolving timing requirements and 5G implementations
The AT&T white box 5G router spec is just one element of a broader AT&T initiative to add a higher level of software control to all its networks.