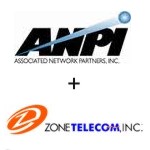 ZONE Telecom's parent company, Honk Kong based e-KONG, has approved the merger between ANPI and ZONE. e-KONG shareholders approved the transaction yesterday.
Under the terms of the agreement, ANPI and ZONE will contribute 100% of their business assets to form a new U.S. holding company, ANZ Communications, LLC. Current ANPI and ZONE shareholders will each own 50% of the new ANZ Communications.
For the foreseeable future, ANPI and ZONE will continue to offer services under their separate brands. The new entity will be led by current ANPI CEO Dave Lewis, who assumes the role of CEO of ANZ Communications. Current ZONE CEO Daniel Boynton will become president of ANZ.
The new company will be headquartered in Springfield, Illinois, with its network operations center based in Dallas, and will have regional offices located in Los Angeles, Cherry Hill, New Jersey and Mount Pleasant, Utah.
It will be interesting to watch the execution of this merger. Both entities have a strong long distance aggregation legacy and both are executing diversification strategies. The move to an all IP world presents both challenges and opportunities to these businesses. Will a combined company be better positioned to leverage the sometimes disruptive shift to IP?