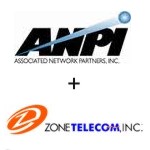 The consolidation trend continues today as news that two independent telecom industry heavyweights , Associated Network Partners Inc. (ANPI) and Zone Telecom plan to merge together. The two wholesale providers of voice, data, and IP services to both enterprise and carriers, who were previously competitors, intend to form a new holding company, ANZ Communications LLC.
ANZ will operate ANPI and Zone, both of which will "… continue providing service under both current business names while leveraging synergies and respective strengths to further advance the business objectives of customers." Terms of the transaction were not disclosed. The merger is subject to approval by ANPI and Zone Telecom shareholders, as well as federal and state regulatory approvals.
"The telecommunications marketplace is in fundamental change, and that change is ushering in both tremendous opportunities as well as multiple challenges. We firmly believe that the ANPI Zone merger stages the new company to assume a leadership position in the markets we serve, allowing us to aggressively realize the opportunities present while effectively managing the challenges the unfolding environment will inevitably present," says Dave Lewis, President and CEO of ANPI. Lewis will assume the role of CEO of the new combined company. Current Zone Telecom CEO Dan Boynton will serve as President of the new entity. The new company will have a board of directors comprised of six members with three delegates from each shareholding body.
The two companies had combined annual sales approaching $200 million in 2009. Together, ANPI and Zone serve approximately 1,300 enterprise customers and nearly 800 wholesale customers in the independent local exchange carrier (ILEC), competitive local exchange carrier (CLEC) and interexchange carrier (IXC) markets. They will operate a nationwide network with OC-3 to OC-192 connectivity, managed out of a  recently completed Dallas, Tex. based network operations center. The new company will be headquartered in Springfield, Ill., and will have regional operations, sales and support offices in Los Angeles, Cherry Hill, N.J., and Mount Pleasant, Utah.
I asked Dave Lewis, why now for this merger and how does he think it will better serve his shareholders and the industry at large? In an email response he commented, "Everyone active in the industry knows that the telecom landscape is moving rapidly, and is being re-defined by sweeping changes. There are new developments nearly every day in technology, on the regulatory front and involving industry consolidation. No company can stand still and when we saw an opportunity to bring two strong companies together, we moved swiftly to make that happen. We believe that the integrated scale we've assembled, married to the balance sheet the new company will enjoy will allow us to continue to diversify our position allowing us to more effectively evolve our product set and deepen our disciplinary competencies. This result is not only good for our shareholders, but our customers who will have a much stronger partner to enable their strategic objectives."
ANZ Communications intends to grow their product portfolio, funded through its increased EBITDA and free cash flow and doesn't rule out "…additional accretive acquisitions." The move is illustrative of the overall marketplace, where smaller entities are looking for increased efficiency and scale through merger and acquisition. This consolidation is happening among service providers themselves and among the vendors, suppliers, and partners who service them. The trend will not slow down anytime soon – the move to an all IP world dictates it.