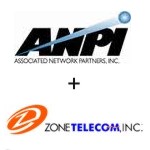 ANPI and ZONE Telecom announced the completion of their merger today, forming holding company ANZ Communications LLC. Shareholders of each former company contributed 100% of their assets to gain 50% of the newly formed entity.
Both ANPI and ZONE Telecom brands will remain for now. The new company will be based in Springfield, IL, with a network operations center in Frisco, TX, and regional operations, sales and support offices in Los Angeles, CA, Cherry Hill, NJ, and Mount Pleasant, UT.
"ANPI and ZONE's competencies complement each other, and ANZ Communications will maximize those respective strengths through this merger," said Dave Lewis, ANZ Communications CEO in a press release. "The companies' individual strengths became increasingly powerful when combined – unlocking potential that did not exist prior to merging."
With greater scale, a combined ANPI and ZONE hope to build a carrier that can compete on a national scale bringing broader efficiencies and business opportunities to their independent industry owners and customers. The new company will have switching facilities and a multi-ring SONET-based network spanning cities such as Chicago, Dallas, Atlanta, Las Vegas and Los Angeles.
"The combination of personnel, vision, engineering, network and infrastructure positions ANZ Communications to be a leader in both wholesale and enterprise sectors," said Dan Boynton, ANZ Communications President in the press release. "The benefits to our customers and shareholders are clear. Combined we now have greater scale and a more diverse product offering, based on connecting network, infrastructure and systems that increase operational efficiencies."
As consolidation in the larger telecom space continues, ANZ joins a number of firms looking to leverage larger and better network assets for growing wholesale and enterprise opportunities.