Mid-band spectrum has gained a lot of attention since carriers began deploying 5G over the last year or so. While high-frequency millimeter wave spectrum provides the fastest speeds, its range is limited. And while low-frequency spectrum has great coverage, 5G deployed in low-band spectrum may be only marginally faster than 4G LTE.
Mid-band spectrum is seen as providing the best mixture of coverage and speeds, but according to telecom financial analysts at MoffettNathanson Research, not all mid-band spectrum is created equal – and Sprint has an edge that will be hard to beat.
The researchers expect to see the Sprint T-Mobile merger completed soon and when that happens, the two carriers' combined mid-band spectrum will far exceed that of AT&T or Verizon. Sprint has an average of 175 MHz of spectrum in the 2.5 GHz band in the largest markets. The company has used that spectrum for its 5G deployments to date – and the analysts expect to see deployments accelerate post-merger.
Verizon is in most dire need of mid-band spectrum and although the company could buy mid-band spectrum from Sprint or Dish Network were the Sprint T-Mobile merger not to go through, that possibility seems extremely unlikely now that the merger is likely to be approved and Dish has made commitments to deploy 5G, the researchers say.
Sprint 5G Mid-Band Spectrum
The researchers expect to see Verizon bid for mid-band spectrum in the C-band between 3.7 and 3.98 GHz targeted for an auction to begin in December. But it could take several years before service could be deployed in the band because the satellite operators that currently use it must move their operations to other frequencies.
Perhaps of greater concern, the researchers argue that even though the C-band is considered mid-band spectrum, its performance characteristics aren't as good as those of Sprint's 2.5 GHz band.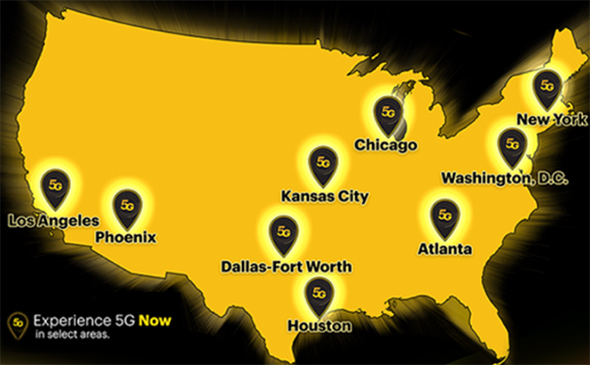 The researchers cite research conducted by Samsung that compared the 2.5 GHz band with the 3.5 GHz band, holding power level and antenna height constant. That research showed that deployment in the 2.5 GHz band could cover an area ten times greater in comparison with the 3.5 GHz band. And considering that C-band spectrum is somewhat higher-frequency then the 3.5 GHz band, the difference in coverage would likely be even greater.
The researchers' arguments also would apply to the CBRS band between 3.55 and 3.7 GHz, a portion of which is now available for lightly licensed use and a portion of which is slated for auction. The upshot is that "building out a robust mid-band 5G capacity layer in 2.5 GHz spectrum will be much more cost effective for T-Mobile than it would/will be for Verizon if they have to do it in the 3.5 GHz band instead," the researchers wrote.
Verizon argues that dynamic spectrum sharing will enable the company to use its existing mid-band spectrum holdings for both LTE and 5G, with capacity shifting as needed. But that doesn't change the fact that the company's total mid-band holdings are considerably less than T-Mobile's will be post-merger.
AT&T has more mid-band spectrum – and more spectrum overall – than Verizon, according to MoffettNathanson, but AT&T's mid-band and overall spectrum holdings are considerably less than those of the new T-Mobile, suggesting that company also could eventually have trouble competing with the new T-Mobile. (New T-Mobile is the name used for the company post-Sprint merger.)
It's worth noting that as integrated companies with both wireline and wireless holdings, AT&T and Verizon should have lower backhaul costs in comparison with the new T-Mobile. It's also worth noting that as of now, the new T-Mobile's millimeter wave holdings are considerably less than those of Verizon or AT&T – although we don't know yet who won what in Auction 103, the latest millimeter wave spectrum auction.
It's also not clear how soon end users will demand superfast mobile speeds, but when they do, Verizon – with the greatest millimeter wave holdings – could have the edge. In the meantime, the MoffettNathanson research suggests that the new T-Mobile may emerge as a strong 5G competitor.