Continuing the cable consolidation trend, Cable One said today that it plans to acquire NewWave Communications for $735 million. Cable One is one of the nation's 10 largest cable companies and will gain considerably more scale by acquiring NewWave, which ranks number 19. The combined Cable One NewWave will serve primarily non-urban areas of numerous central U.S. states.
Cable One is purchasing NewWave from private equity firm GTCR, which purchased the cable company in 2013. Since then, NewWave has seen revenue increase an average of 5.5% annually, according to an investor presentation posted on the Cable One website.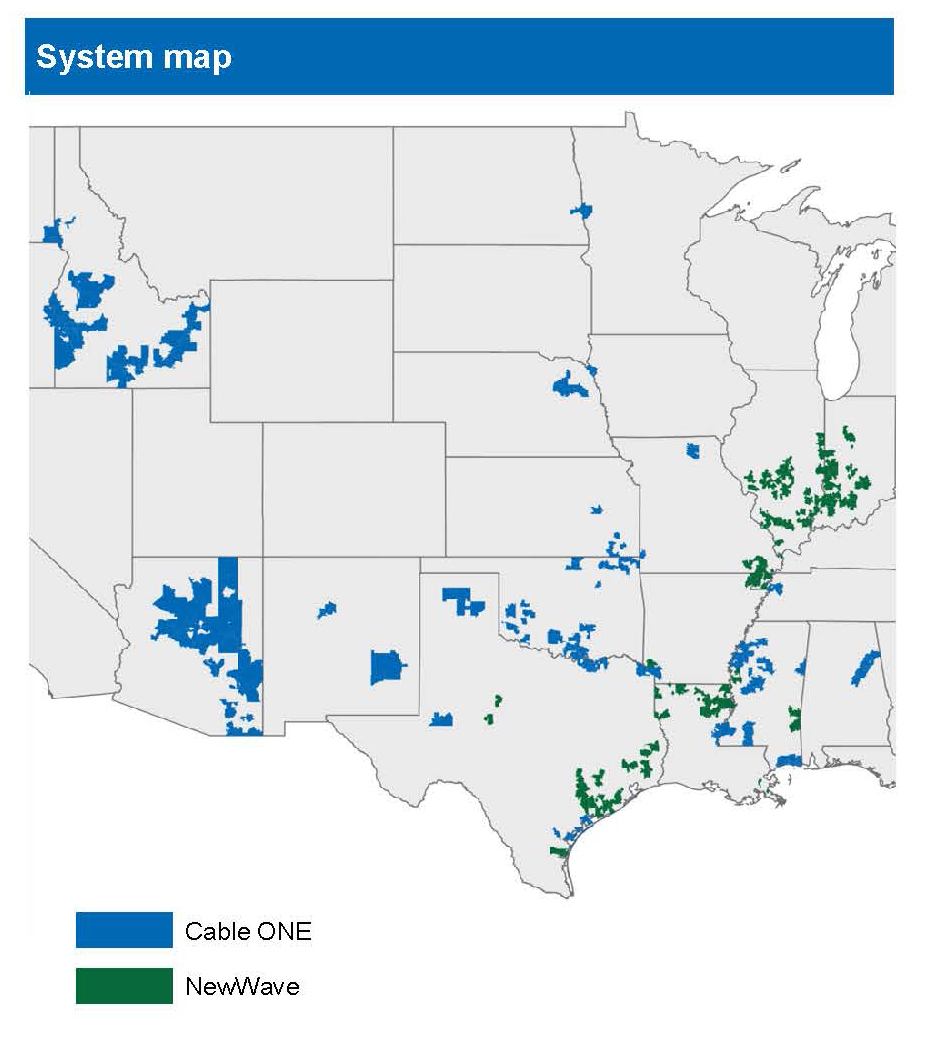 Cable One NewWave Deal
Cable One sees opportunities for further growth from NewWave, whose network passes 428,000 homes. The investor presentation notes, for example, that NewWave's data services take rate is just 26%, in comparison with 31% for Cable One.
It would appear that Cable One has the potential to increase NewWave penetration rates without a major investment. Ninety-one percent of homes passed are served by infrastructure operating at 750 MHz or greater, and data speeds offered are as high as 100 Mbps.
We might expect to see Cable One make some network upgrades, however, considering that the company already has begun to offer gigabit speeds in some markets.
In a press release, Cable One President and CEO Julie Laulis noted that "[t]he transaction represents an attractive opportunity to utilize Cable One's existing balance sheet capacity for a value-enhancing acquisition."
Like some other cable operators, NewWave has been pursuing opportunities in the business market, which currently generates 13.3% of revenues. The company has seen average annual growth of 24% in that market since the GTCR acquisition, and Cable One expects to see continued growth because take rates in that market are still relatively low.
The Cable One NewWave deal is the latest example of consolidation in the cable industry. The news comes just a few months after TPG Capital announced it planned to acquire two cable over-builders – Grande Communications and RCN.